Fitzgerald marks 55 years of service in 2013
by
Kara Furlong
Oct. 25, 2013, 4:54 PM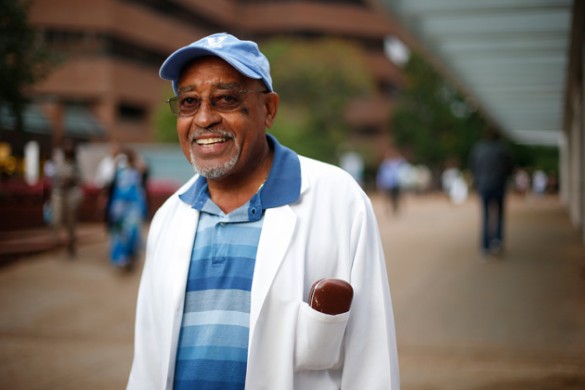 When Melvin Fitzgerald first came to Vanderbilt, he was 22, fresh out of the U.S. Army, and seeking work just until he could move to California to meet up with his brother, who was soon to be discharged from the U.S. Navy. Instead, his brother moved back to Tennessee and Fitzgerald kept his job in the Department of Biochemistry. He has been there ever since.
This March, Fitzgerald marked 55 years of working at Vanderbilt. By his estimation, he has seen five chancellors, eight department chairs, five direct supervisors and countless colleagues come and go. Fitzgerald is something of an institution within the institution – walking from his office on the sixth floor of Light Hall down to Medical Center Plaza, numerous passersby smile, wave and greet him by name. In September, he was recognized at Vanderbilt's annual Service Awards Celebration. Fitzgerald adds the honor to the Commodore Award he received in 1996 and the Dr. Martin Luther King Jr. Award he won in 2011.
Fitzgerald's ties to Vanderbilt are even longer than his 55 years of service. When he first arrived on campus in 1958, he joined his uncle Bowling Fitzgerald, a trainer for the Vanderbilt football team, who began work at Vanderbilt in 1904. Melvin's nephew, Willy Pendergrass, is a current supervisor for VUMC Parking and Transportation. Among the three men, there is well more than a century of service to Vanderbilt.
A native of Franklin, Tenn., Fitzgerald plans to retire Oct. 31 to spend more time on his farm in Williamson County as well as managing his rental properties throughout Nashville. He realizes that his constancy at Vanderbilt is something of a feat.
"The younger generations don't stay here as long as they used to," he said. "What holds a lot of people here are the good benefits, the educational programs. That's why I stayed."