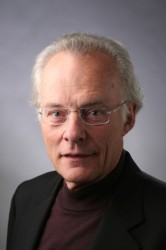 A renowned expert on the Hebrew Bible and six students who took part in an archaeological excavation at Jezreel, Israel, will share their experiences at a Vanderbilt Divinity School community breakfast Oct. 29.
The breakfast discussion will be from 7:30 to 8:30 a.m. in the Vanderbilt Divinity School Reading Room.
"Jezreel, the site famously connected in the Bible with the evil King Ahab and his scheming wife, Jezebel, has lain unattended by archaeologists for many years," said Douglas Knight, the Drucilla Moore Buffington Professor of Hebrew Bible and professor of Jewish Studies in the College of Arts and Science. "The area in which the excavators worked played important political and economic roles in biblical times and is located in one of the most picturesque and strategic valley regions of Israel."
Knight and six students from Vanderbilt Divinity School and the Graduate Department of Religion will describe the significance of their work with the team that reopened the site this past summer in an effort to discover more about the history and culture of ancient Israel.
Knight has been active in the Society of Biblical Literature and is co-founder and steering committee member of the Electronic Tools and Ancient Near Eastern Archives (ETANA). Organizations from which he has received major awards include the National Endowment for the Humanities, the Fulbright Program and the National Science Foundation. He recently published two books, Law, Power and Justice in Ancient Israel (Westminster John Knox Press) and The Meaning of the Bible (co-authored with Vanderbilt Professor Amy-Jill Levine; HarperCollinsPublishers) and he is now working on a commentary on the book of Joshua for the New Cambridge Bible Commentary series (Cambridge University Press).
For more information or to register for the breakfast, call 615-936-8453 or sign up online. The breakfast is $10 for the general public and free for students who register.
[campusmap]