Popular Mechanics has named Michael Goldfarb, H. Fort Flowers Professor of Mechanical Engineering, one of its "Ten Innovators Who Changed The World" for 2013.
Goldfarb, who develops robotic adaptive equipment for people with disabilities, and his former graduate student Ryan Farris were recognized for the Indego, an exoskeleton they developed at Vanderbilt to help paraplegics stand and walk. Farris now works for motion control technology company Parker Hannifin, which has licensed Goldfarb's technology and hopes to bring a mass-produced exoskeleton to rehab facilities and then to consumers in the next few years.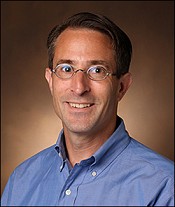 Goldfarb has also developed a revolutionary "bionic" leg prosthesis, which mimics the movement of a natural leg much better than a conventional prosthesis. The leg, which has been licensed and is being brought to market by Freedom Innovations, is also being used by researchers at the Rehabilitation Institute of Chicago to test technology that links the lower-limb prosthesis to the brain.
Goldfarb and Farris are recognized alongside innovators including researchers at GE working on driverless car systems, and the project scientists behind the Curiosity Mars Science Laboratory.