Group from Japanese university visits founder's alma mater
Oct. 17, 2013, 11:58 AM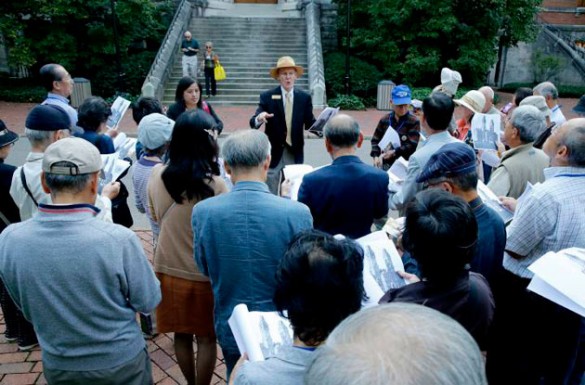 Alumni of Japan's Kwansei Gakuin University and its chancellor, Ruth Grubel, toured the Vanderbilt campus Oct. 4 under the guidance of University Historian Lyle Lankford.
The group's visit was part of KGU's commemoration of the 125th anniversary of its founding by Vanderbilt alumnus Walter Russell Lambuth in 1889. Lambuth (1854-1921) was a missionary of the Methodist Episcopal Church South who studied theology and medicine at Vanderbilt from 1875 to 1877.
KGU is one of oldest private universities in Japan. Now an independent co-educational institution, it offers bachelor's, master's and doctoral degrees in almost 40 disciplines to about 20,000 students, and features 11 undergraduate and 13 graduate schools as well as an attached kindergarten, elementary school, junior and senior high school, Seiwa College and Seiwa Junior College.
The visit was hosted by the Vanderbilt International Office.
Contact: Carolyn Miller, (615) 322-3444