Media Inquiries
Latest Stories
Vanderbilt law professor Ganesh Sitaraman was named the winner of the 2013 IIT Chicago-Kent College of Law/Roy C. Palmer Civil Liberties Prize, for his book, The Counterinsurgent's Constitution: Law in the Age of Small Wars.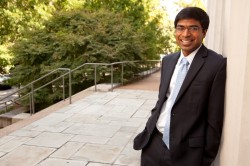 The award, announced Oct. 10 in Chicago, honors an exemplary work of scholarship exploring the tension between civil liberties and national security in contemporary American society.
Sitaraman's winning book, published by Oxford University Press in December, explores the intersection of law and counterinsurgency strategy. Controversy and debate surround counterinsurgency as a strategy – both for its military effectiveness overseas and the unexplored legal path it takes us down at home. Sitaraman shows that far from being in conflict, counterinsurgency and law can actually be mutually reinforcing, leading ultimately to military operations that are at once strategically beneficial and more humanitarian.
Professor Sitaraman has been a member of the Vanderbilt Law School faculty since 2011. From 2011 to 2013, he served as policy director and senior counsel to candidate and U.S. Sen. Elizabeth Warren. Sitaraman has also been a research fellow at the Counterinsurgency Training Center at Camp Julien in Kabul, Afghanistan, and a visiting fellow at the Center for a New American Security. He is also a senior fellow at the Center for American Progress, a nonpartisan Washington, D.C.-based think tank.
The IIT Chicago-Kent College of Law/Roy C. Palmer Civil Liberties Prize was established to encourage and reward public debate among scholars on current issues affecting the rights of individuals and the responsibilities of governments throughout the world. The prize was established in 2007 by IIT Chicago-Kent alumnus Roy C. Palmer and his wife, Susan M. Palmer.