Media Inquiries
Latest Stories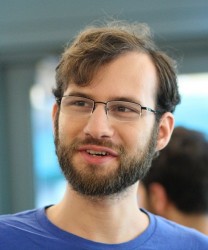 Richard Knipel, an editor and administrator for Wikipedia, will speak at Vanderbilt University Oct. 23 as part of its libraries' celebration of Open Access Week.
Knipel will discuss the Wikipedia Loves Libraries project at 10:30 a.m. in the Community Room of the Vanderbilt Central Library. Knipel serves as president of Wikimedia New York City and has organized several large conferences on Wikipedia in that metropolitan region. In 2011, he was the "Wikipedian in Residence" at the Museum of Modern Art in New York City.
The overall purpose of Open Access Week is to promote the freedom to read and share information worldwide without economic or political barriers, according to Clifford Anderson, director for scholarly communication at Vanderbilt Libraries.
"[rquote]Open Access Week provides a forum to raise critical questions about the public relevance of research universities in the Internet age," Anderson said.[/rquote] "For example, how can scholars reach beyond their institutional boundaries to address subjects that affect the common good? Also, how might we empower non-traditional scholars to contribute to the scholarly record?"
Anderson noted that access to knowledge improves people's lives, affording them opportunities to learn and grow that were unimaginable just a generation ago. He points to an example on YouTube of how the open access movement might help cure cancer. The video features an interview by Francis S. Collins, director of the National Institutes of Health, with 16-year-old Jack Andraka, who has invented a breakthrough cancer diagnostic.
In addition to Knipel's lecture, he will lead a workshop on Oct. 23 on the practicalities of making cultural resources freely available through Wikipedia. Participants will learn how to create and edit Wikipedia articles as well as strategies for fostering collaboration between Wikipedia volunteers and cultural institutions like galleries, libraries, archives and museums.
The lecture is free and open to the public. However, registration for the workshop is limited to 20. To take part in the workshop, please email Anderson.