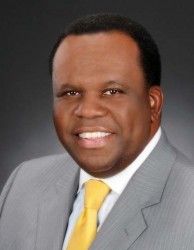 Vanderbilt Law School alumnus and Arkansas lawmaker Darrin Williams will return to campus Oct. 28 for a discussion about the intersection of politics and business within the legal field and how each interacts with the other.
The public is invited to "Law, Politics, and Business: A Conversation with Rep. Darrin Williams" from noon to 1 p.m. in the law school's Flynn Auditorium.
The event, sponsored by the Program in Law and Government, Black Law Student Association, and Law and Business, is free and open to the public.
Williams, who graduated from Vanderbilt Law School in 1993, serves as speaker pro tempore in the Arkansas General Assembly, to which he was elected in 2008. During his career, he has also worked in the Office of the General Counsel for the U.S. Securities and Exchange Commission, served as Arkansas' chief deputy attorney general and practiced law for more than a dozen years.
Presently, Williams serves as the CEO of Southern Bancorp, Inc., a community development bank that works to revitalize underserved communities in the mid-South. Southern has more than $1 billion in assets, 80,000 customers and 40 branches throughout Arkansas and Mississippi.