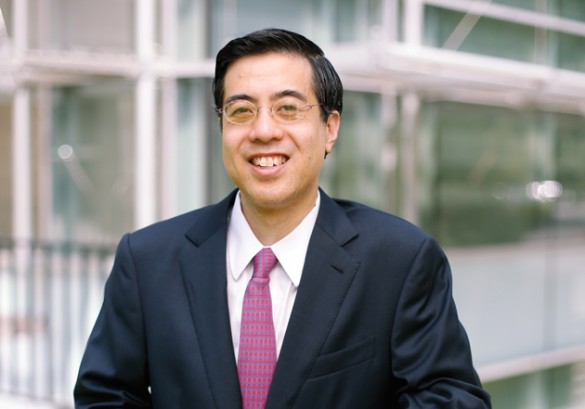 Thomas Wang was born in Boston, raised in Boston and educated in Boston.
He never lived anywhere else until he moved to Nashville in April to become director of the Division of Cardiovascular Medicine and physician-in-chief of the Vanderbilt Heart and Vascular Institute.
Yet the transition has been surprisingly easy, he said, as Wang, his wife and their three young sons settle in and begin to make Nashville their home.
Wang graduated from Harvard College and Harvard Medical School. His interest in cardiovascular medicine was sparked while doing his residency in internal medicine at Massachusetts General Hospital, where he stayed for the next decade to direct the Heart Failure Disease Management Program and serve as associate director of the Heart Failure/Transplantation Section. He also directed the Program in Human Cardiovascular Physiology and Metabolism.
"In the past few decades, there have been huge advances in our understanding of the cardiovascular system," he said. The knowledge that has been attained forms the basis for many of the therapies in use today.
Wang is gratified by this real, appreciable opportunity to improve patients' lives.
"We have the ability to ameliorate the morbidity and mortality associated with many serious cardiovascular conditions," he said. "There has been such incredible progress in cardiology. What we're able to do is quite remarkable."
Wang cited several reasons for making the move to Vanderbilt.
"One was the strength of the clinical enterprise in cardiology, which has been a very successful model for the development of a robust cardiovascular service line," he said. "Also, [rquote]Vanderbilt has been a very forward-thinking institution when it comes to personalized medicine in both research and clinical implementation.[/rquote] It's one of the premier places in the country for doing patient-oriented research, which is my area of investigation, as well as basic science research."
Much of his research is based on observations that were initially generated in population studies and then taken into the laboratory to try to understand the mechanisms behind those initial observations. "In a way, it's the reverse of bench to bedside," he said.
Wang is in the process of setting up his research operation at 2525 West End Ave. to take advantage of proximity to others who are conducting patient-oriented research in epidemiology, biostatistics, informatics and public health. "It's a terrific location for someone with my research interests, with a lot of like-minded people in one place," he said.
View the complete list of new university faculty for 2013-14.
View the complete list of new medical faculty for 2013.