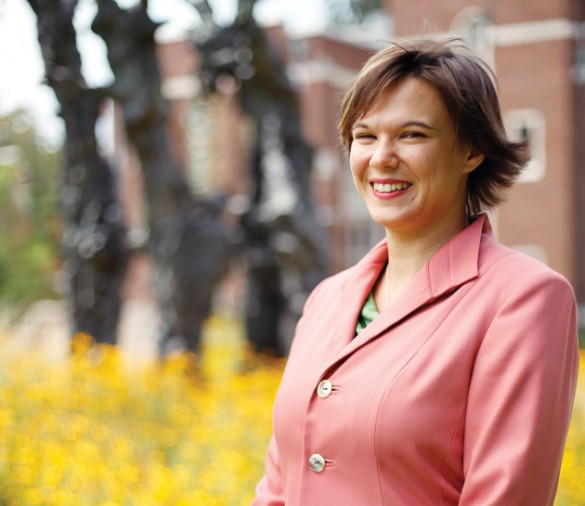 Kristin Michelitch leans forward over her new desk in the Department of Political Science and intently asks a question: "Would you take a drug that is not even tested?"
When the answer doesn't come back quickly enough, she furnishes her own reply.
"No, you wouldn't. So why should we do anything different for social science?"
Michelitch, who is joining Vanderbilt as an assistant professor of political science, is a young researcher on the vanguard of the movement that seeks to ensure that money spent on aid to developing countries achieves its intended goals.
"Why should we be doing aid programs that have not been tested scientifically?" she asked. "I think more and more donors and some international organizations are finally saying, 'Let's do some research on what works before we just keep doing it.'"
Michelitch, a native of Atlanta and a graduate of Emory University, spent several years after her undergraduate studies traveling overseas from a home base in Germany. She spent time in Morocco, Guatemala, Cambodia, Thailand and other countries doing internships and working for nongovernmental organizations.
"German students got me interested in developing countries, and once I went, I got (angry) about some of the things I saw," she said. "People living in poverty. People who are exploited. [rquote]There's just a lot of discrimination based on ethnicity, based on gender. There are a lot of unjust living circumstances."[/rquote]
Encouraged by her mentor, Emory professor Cliff Carrubba, Michelitch headed to New York University for training in research methodology.
"Once through NYU's 'methodology boot camp,' I had the training to investigate the issues I was passionate about—political barriers that stymie development and policies that improve lives," Michelitch said. "My goal is to simultaneously advance our knowledge of social science by testing theoretically driven hypotheses and to learn which policy programs are most effective in improving the well-being of citizens."
The decision to do her research and teach at Vanderbilt was an easy one, Michelitch said.
"For one thing, it's a very young department and you can really feel the energy here," she said. "It's an incredibly dynamic research environment."
Michelitch will teach two courses this fall, a first-year writing seminar on African film and a Ph.D. field research class.
View the complete list of new university faculty for 2013-14.
View the complete list of new medical faculty for 2013.