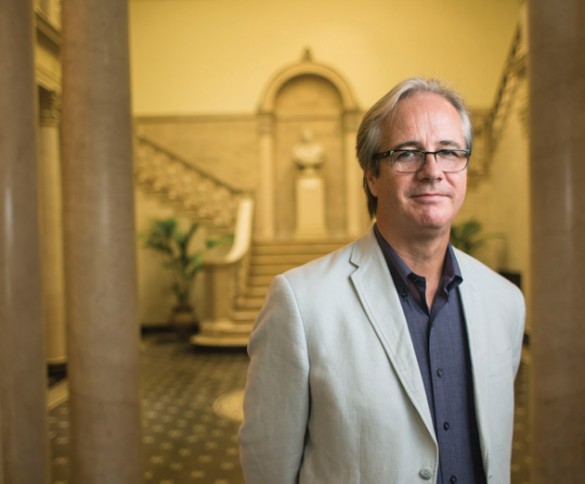 One of the first things Kevin Murphy did after accepting the offer to join Vanderbilt's history of art department was explore Nashville's historic neighborhoods.
For Murphy, the endeavor combined work with pleasure, as his research focuses on historic preservation and why individuals choose to save particular buildings and landscapes.
Murphy, who holds the Andrew W. Mellon Chair in the Humanities, focuses on the architecture and material culture of France and the United States in the 19th and early 20th centuries. Two historic projects with strong resemblances that fascinate him are New York's Woolworth Building, built in 1913 and one of the United States' oldest skyscrapers, and the Chicago Tribune Tower, built nine years later in a similar neo-Gothic style.
"[rquote]The use of a medieval European style brings to mind the dark and mysterious and was unprecedented in U.S. commercial buildings before the Woolworth,"[/rquote] said Murphy, who has a forthcoming article, "The Gothic Cathedral and Historiographies of Space," to be published in the edited anthology The Idea of the Gothic Cathedral (Brepols Publishers).
Prior to earning a doctorate in art history from Northwestern University, Murphy was a consultant for the Maine Historic Preservation Commission and other preservation agencies. He received his master's in preservation studies from Boston University.
Murphy taught for six years at the University of Virginia, where Christopher Johns, the Norman L. and Roselea J. Goldberg Professor of Art History at Vanderbilt, was a colleague. Most recently, Murphy was the John Rewald Professor of Art History and executive officer of the doctoral program in art history at the Graduate Center of the City University of New York.
Murphy will teach 19th-century European architecture at Vanderbilt next spring as well as look for ways to strengthen department ties with other art institutions in Nashville and beyond. A potential project to be explored under his leadership is the establishment of a doctoral program in art history.
Murphy's current research looks at historicism pertaining to the French and American revolutions.
"I am studying the role of Lafayette, the French military officer who served as a general in the American Revolutionary War, in deciding how the conflict should be commemorated," he said. "Even the Bunker Hill monument was controversial in the 1820s, with some Americans favoring more practical projects. Lafayette was a political unifier who brought Americans together around the idea of a shared experience." No surprise that Murphy looks forward to learning more about the significance of Lafayette's visit to Nashville.
View the complete list of new university faculty for 2013-14.
View the complete list of new medical faculty for 2013.