New faculty: Doug Adams studies the science of risk
by
Brenda Ellis
Oct. 7, 2013, 8:15 AM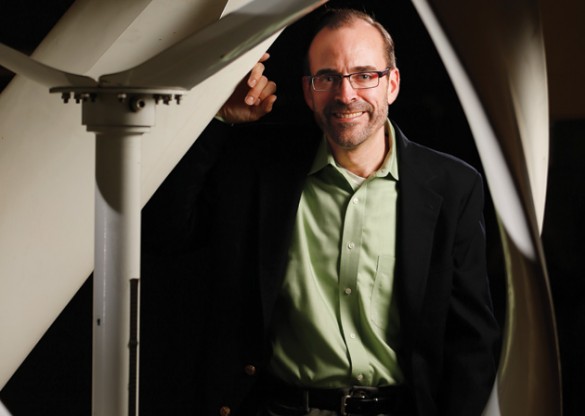 Vanderbilt is where the science of risk is done. It's why Doug Adams wants to be here.
"The best group in the world studying risk is at Vanderbilt's School of Engineering," said Adams, an internationally recognized expert in structural health monitoring. "They understand the risks of failure in materials, electronics, nuclear power plants, even cyber-physical systems."
Vanderbilt offers a one-of-a-kind multidisciplinary option in reliability and risk engineering and management as part of its civil engineering doctoral program. Adams joins Vanderbilt from Purdue University as a Distinguished Professor and chair of the Department of Civil and Environmental Engineering.
Adams conducts full-scale dynamic experiments to discover which sensors and signatures are first to warn of impending failure in a variety of structures in the built environment, specifically aircraft, automobiles, military platforms and power machinery. He then studies those signatures to derive mechanistic models that explain why and how structures deteriorate in the first place.
"These models are extremely useful for prognostic health management, an automated process for scheduling maintenance to reduce costs in transportation and energy systems alike," he said. "For example, we study ways to better sense and control how wind farms and batteries operate and are maintained to reduce the cost of energy and reduce impacts on the environment."
By January 2014, Adams' Systems Integrity and Reliability Laboratory will occupy a 20,000-square-foot space at Nashville's MetroCenter, housing more than $8 million in equipment. Using sophisticated instruments—such as electro-hydraulic vehicle simulators, wind turbine dynamic test rigs, a 3D laser velocimeter and systems for digital and infrared imaging—Adams and his undergraduate and graduate students will be able to quantify how materials, structures and machines behave under realistic operating conditions. Students conducting
experiments on these unique platforms will graduate as the most sought-after engineers in the field, Adams said.
The lab will include a 585-square-foot wind turbine test chamber that is 45 feet long. The lab also will hold a military helicopter and a Hummer. "Vanderbilt will be the only university that I know of with a 1 megahertz 3D scanning laser velocimeter," Adams said. "We'll sample faster and see things other people can't see."
Adams says his work in energy and security connects with two of the four research thrusts defined by the School of Engineering. He's eyeing a third: health and medicine.
"As a structures doctor, I see great opportunity to collaborate with Vanderbilt's medical researchers in areas of human-machine interfaces, biosensing for human health monitoring and more," he said.
View the complete list of new university faculty for 2013-14.
View the complete list of new medical faculty for 2013.