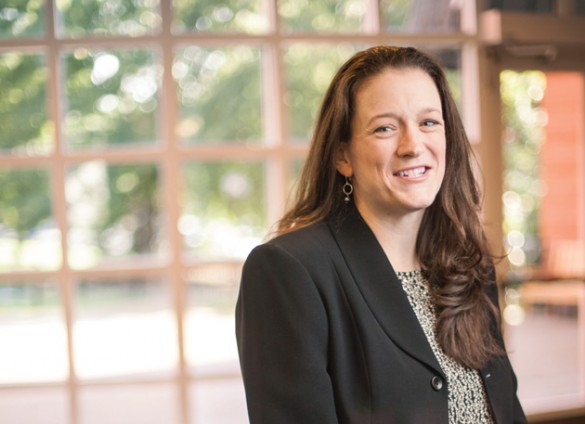 Catherine Farmer Lee enjoys solving puzzles. For her, the most interesting puzzle of all is a financial statement.
Lee realizes this isn't an exciting prospect for most people. But she said that a professor during her MBA studies once told her, "If you get excited when the financial statements balance, you might want to consider becoming an accounting professor."
Sifting through a logical process is appealing to Lee. "For me, research is thinking about why the puzzle pieces are shaped the way they are, then picking one piece to thoroughly study," she said. "[rquote]In teaching, you show students all of the puzzle pieces and how they fit together."[/rquote]
Lee's arrival at Vanderbilt's Owen Graduate School of Management as an assistant professor of accounting is a kind of homecoming. She grew up in Murfreesboro and Nashville and attended Hume-Fogg Academic High School. She graduated from Princeton University in 2003, majoring in operations research and financial engineering.
After graduation, Lee headed to Banc One Corp. in Chicago, just prior to the merger with JPMorgan Chase in 2004. She entered a rotation program for new college graduates offering full immersion into various finance and accounting roles.
"The idea was to develop people who understood the cross-section of banking functions, not just one silo," Lee said. After finishing the program, she joined the investment banking side of the firm as an associate, focusing on renewable energy investments.
Lee soon enrolled in the University of Chicago's part-time MBA program, heading from work to classes three nights a week. It was tiring but fruitful. "Every day I used something from the classroom in my work," she said.
After graduating in 2007 with finance and econometrics concentrations, she decided to pursue her passion for academics full time. She left banking to pursue a Ph.D. in accounting, which she completed in 2013.
Her dissertation analyzed managers' use of corporate political activity to benefit firm financial statements. Her research interests are in corporate political activity, corporate governance and debt contracting, with plans for cross-disciplinary studies with colleagues in political science.
Her arrival at the Owen School is, in a way, the completion of a puzzle. Her mother is a CPA, and her father was a member of the accounting faculty at Middle Tennessee State University.
Lee was drawn to the culture at Owen. "The faculty not only produce high-quality research, but also connect with colleagues and students on a personal level," she said.
View the complete list of new university faculty for 2013-14.
View the complete list of new medical faculty for 2013.