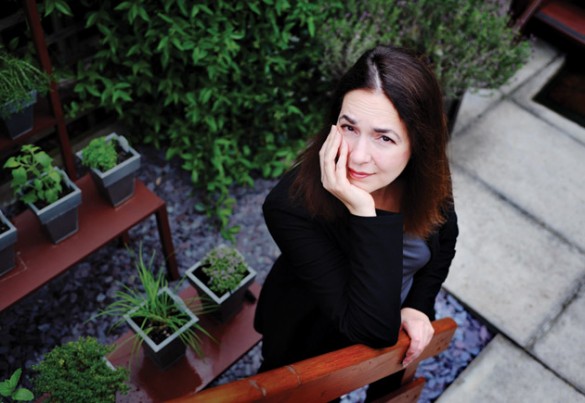 Lorrie Moore, a distinguished American fiction writer who was a 2012 Chancellor's Lecturer at Vanderbilt, has kept the corner of her eye on the university's storied English department over the years.
"I have especially been watching its creative writing program expand and soar," she said. That is an important reason for Moore's move from the Midwest, where a significant number of her stories are set, to Nashville and Vanderbilt, where she now holds the Gertrude Conaway Vanderbilt Chair in English.
Moore graduated summa cum laude from St. Lawrence University in northern New York. During college, she edited the university's literary magazine and won first prize in Seventeen's short story contest for "Raspberries." She earned a master of fine arts from Cornell University, where her thesis became Self-Help, her first published collection of short stories and winner of the Rea Award for the Short Story in 2004.
Moore, who wrote the novels A Gate at the Stairs, Who Will Run the Frog Hospital? and Anagrams, noted that she strives to write about more than life's ordinary events. "I'm also interested in experiences that most people would never have at all—not that an experience would not be possible or imaginable, just not likely for the reader," she said. "[rquote]It's good for writing to expand the world of the reader and not just reinforce and affirm it."[/rquote]
Moore, a member of the American Academy of Arts and Literature, has received numerous fellowships and honors for her writing. She was especially surprised to receive the Irish Times International Fiction Prize for her short story collection Birds of America. 
"The short list for the prize was amazing, with Alice Munro, Roddy Doyle and Don DeLillo, but they phoned me in the middle of the night and gave it to me anyway. Some eyebrows were raised—particularly mine," she said.
Moore, who credits her former professor Alison Lurie with continuing to be an inspiration, was noted for her own teaching and mentoring of students at the University of Wisconsin-Madison.
"One gives students what one can—one listens, one reads, one coaxes," she said. "But I think it's important for students to see how much you are learning from them as well, so that they can see how exhilarating the whole lifelong literary conversation continues to be."
This spring, Moore will teach a graduate fiction workshop while striving to write every day. Bark, her latest story collection, is scheduled for publication in March 2014. How will she handle the teaching-writing balance? "I believe in magic!" she said.
View the complete list of new university faculty for 2013-14.
View the complete list of new medical faculty for 2013.