Vanderbilt Divinity student receives Otis Social Justice Award
by
Ann Marie Deer Owens
Oct. 4, 2013, 8:06 AM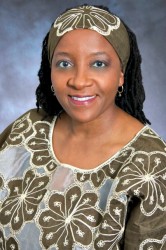 Nontombi Naomi Tutu, a second-year master of divinity student at Vanderbilt University, has been honored with the Otis Social Justice Award from Wheaton College in Norton, Mass.
Tutu, who is a daughter of Archbishop Desmond Tutu, has worked in a variety of roles as an advocate for equality, human rights and the celebration of diversity. These include serving as a development coordinator in West Africa, leading reconciliation efforts for feuding groups and serving as program coordinator for the Race Relations Institute at Fisk University.
Tutu received the award Sept. 16 at Wheaton, where she also lectured on "Striving for Justice: Searching for Common Ground." She noted that she saw injustice firsthand while growing up in apartheid South Africa, but she has learned from her father and others how dedicated activists can change the world for the better.
Marguerite Copeland, a Wheaton student, proposed Tutu for the award after an event for Girl Up, a campaign of the United Nations Foundation that supports American girls who raise awareness and funds for the United Nations. At the event, Tutu spoke about the importance of young women becoming leaders in their community.
The Otis Social Justice lecture series was established in 1959 through the generosity of Henry Witte Otis, whose children included two Wheaton graduates. Eleanor Roosevelt was among the earliest Otis lecturers in 1962. The first Otis Social Justice Award was presented in 1990 to former U.S. Surgeon General C. Everett Koop.