Norman: To succeed, VUSN must collaborate and innovate
by
Kara Furlong
Oct. 4, 2013, 1:50 PM
Linda Norman
Dean of Vanderbilt University School of Nursing, Valere Potter Menefee Professor of Nursing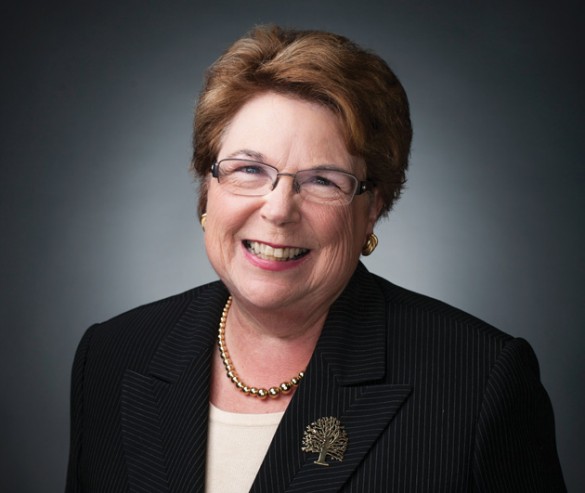 Linda Norman has deep roots in the Vanderbilt community. She wants the same for Vanderbilt University School of Nursing.
For the past 22 years, Norman has spearheaded curricular innovations at VUSN. In her new role as dean, she said her top priority is to better integrate nursing education with other efforts taking place across the institution.
"The top thing on the agenda is to increase the partnerships between VUSN and other parts of the university and medical center," she said. "This can take a lot of different directions. We are exploring partnerships with Peabody College graduate students and faculty about programs related to pediatric obesity, for example.
"These partnerships are about increasing our work with interprofessional education, practice and scholarship. So it's asking questions like, 'How do we create that synergy beyond nursing and medicine to solve problems that will improve the health of populations, using the creative ideas of our students and faculty as we teach, practice and conduct scholarly inquiry?'"
From the time she was a young girl, Norman knew she wanted to be a nurse and that she wanted to teach. She earned her bachelor's and master's degrees in nursing from the University of Virginia and her doctor of nursing science from the University of Alabama at Birmingham. Over the course of her career, she's been gratified to see the nursing profession come into its own.
"Nursing has matured as a discipline. It has become more clearly defined and appreciated for its unique contributions to health care delivery," she said. "The roles of nursing are much better known not only within health care, but by the public. Students come here and choose nursing because they know the contributions that it makes."
Norman plans to build on the stellar reputation VUSN established under long-serving dean Colleen Conway-Welch, who stepped down from the role after more than 28 years and continues to serve on the school's faculty. VUSN is known for its innovative educational approaches, multiple entry options, flexible scheduling and distance learning opportunities. It has one of the most extensive nurse faculty practice networks in the country as well as a solidly growing research program, and it offers the latest informatics technology woven throughout all of its programs.
"As a nursing school, we will cease to be successful, cease to be competitive, if we don't continually innovate," Norman said. "But we have to be innovative in all kinds of ways. For example, we have partnered with the Vanderbilt Heart and Vascular Institute as we teach community health, linking our educational program with a VUMC strategic initiative. It helps our students learn in a unique way and helps the medical center further decrease its less than 30-day readmission rate for patients with congestive heart failure. To me, the future of nursing education and health care delivery is to be integrated in such a way that they add value to one another while helping students learn about things beyond acute care."
One of the biggest challenges confronting nursing is coming up with the right care model in a cost-constrained world, said Norman, who isn't daunted. "With the expertise represented in the VUSN faculty and our medical center nursing partners, we have the opportunity to utilize the research, practice and educational environments to determine those new workforce and care delivery models," she said.
"To me, this is the best time ever to be a nurse because what we do is being recognized for its effectiveness in cost, quality and outcomes," Norman said. "The faculty of VUSN are nationally and internationally recognized for their scholarly expertise, which puts us at the leading edge of nursing."
View the complete list of new university faculty for 2013-14.
View the complete list of new medical faculty for 2013.
reporting by Kathy Rivers