Townes: VDS positioned to be world divinity school
by
Kara Furlong
Oct. 4, 2013, 2:00 PM
Emilie M. Townes

Dean of Vanderbilt Divinity School, E. Rhodes and Leona B. Carpenter Professor, professor of womanist ethics and society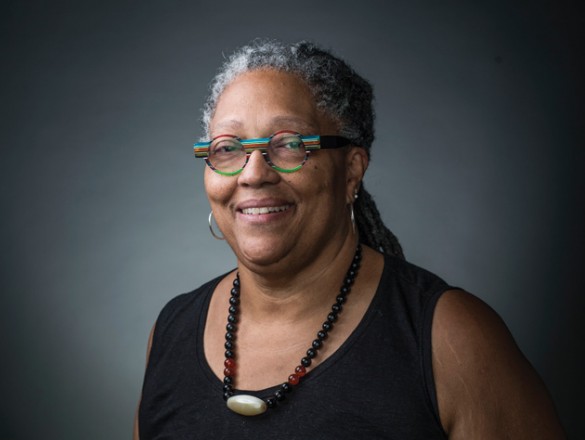 Emilie M. Townes is new to Vanderbilt and Nashville, but she is no stranger of the South. Townes grew up in Durham, N.C., as the curious daughter of college professors.
"I drove my parents and teachers crazy at times with all the questions I had," she remembered. "I think this kind of inquisitiveness pointed me in the direction of Christian social ethics. I am fascinated with structures and social phenomena and how they are created and maintained."
Recruited to the University of Chicago, where she pursued a bachelor's degree in religion and the humanities, Townes was sure she wouldn't follow her parents into education. But her lifelong quest to gain and share knowledge eventually got the better of her. When asked to teach an adjunct course on black women and religion at Garrett-Evangelical Theological Seminary in Evanston, Ill., in the early 1980s, Townes agreed to do so.
"On my first day of that class with 20 or so students, mostly black women and men, when I opened my mouth to welcome them, I realized immediately that I was experiencing a profound call to teach," she said. As she neared the end of her Ph.D. program in the late 1980s, she made the choice to focus on theological education rather than liberal arts teaching.
Townes is a pioneering scholar in the field of womanist theology, which incorporates class, gender, sexuality, sexual orientation and race as the critical lens through which to examine issues as an ethicist. Among the topics of particular interest to her are health and health care; exploration of the linkages among race, gender, class and other forms of oppression; and the cultural production of evil.
"For me, what is particularly fascinating is how we, as human beings, participate in (these systems) or not," she said. "How we dissent from inequalities and how we build systems of justice-making. This forms me as a scholar and as a human being as I want to … work with others to build a better world for all."
An ordained American Baptist clergywoman, Townes was installed as the 16th dean of Vanderbilt Divinity School on Aug. 23. She succeeds James Hudnut-Beumler, who is taking a year's sabbatical after 13 years as dean. Townes came to Vanderbilt from Yale Divinity School, where she was the Andrew W. Mellon Professor of African American Religion and Theology and associate dean of academic affairs.
Townes said she was drawn to VDS because of its demonstrated commitment to helping clergy and laity not only prepare for Christian ministry but re-envision ministry to meet the needs of our times. The school does so by infusing students' spiritual and intellectual growth with a sense of social justice for the formation of new generations of scholars.
Going forward, Townes believes VDS is positioned to become a world divinity school.
"Christianity has become Southern, African and Latin American. I want us to more intentionally focus on the important integration of intercultural/global, interfaith awareness in our teaching, research and writing as students and faculty think through domestic issues in their world context," she said.
Townes said that patience, thoughtfulness and collaboration will guide her leadership style.
"As a minister, I have learned the importance of listening and presence before plunging into action. As an ethicist, I have learned to look at the ways in which we humans make the worlds around us—at times feeling as though we control them and other times feeling as though we are surviving them," she said. "I believe in asking questions that hopefully foster good conversations from which we can then determine the best directions to go."
View the complete list of new university faculty for 2013-14.
View the complete list of new medical faculty for 2013.
reporting by Ann Marie Deer Owens