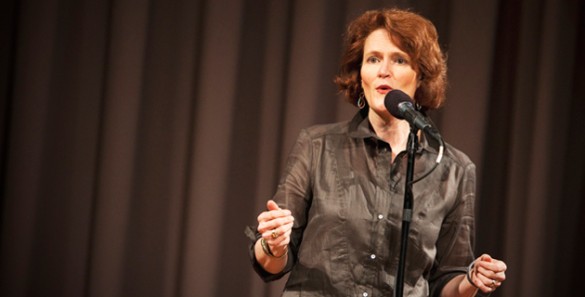 Playwright and performer Tricia Rose Burt, a Vanderbilt alumna, will give a free performance of her acclaimed one-woman show How to Draw a Nekkid Man beginning at 4:10 p.m. Monday, Oct. 21, in Sarratt Cinema. The event is open to the Vanderbilt community.
Burt grew up in the South, where she was strongly encouraged to pursue business, marry a Southerner, raise children and live below the Mason-Dixon Line. Instead, she is now a writer, performer and artist, married to an Irishman and living in New England. An award-winning visual artist, Burt expanded her creative focus from studio art to writing and performing in 2008. Informed by personal experience, her work concentrates on transformation, often questioning conformity and celebrating difference.
Burt is a frequent guest performer with the acclaimed storytelling organization The Moth, which The Wall Street Journal has called New York's "hippest, hottest literary event." She was broadcast on the Peabody Award-winning National Public Radio show The Moth Radio Hour; opened for The Moth's flagship program, The Moth Mainstage; performs with The Moth on the Road; and was featured in a Moth podcast that appears on the CD The Best of The Moth Radio Hour Vol. 19.
"Tricia Rose Burt is a born storyteller. Her voice mesmerizes, whether you are reading her on the page or listening to her speak in front of a live audience," said Catherine Burns, artistic director of The Moth. "[rquote]Tricia puts a new, thoroughly original spin on the Southern belle. You will howl with laughter just moments before you are deeply moved."[/rquote]
Burt's performance of How To Draw A Nekkid Man has generated thousands of hits on social media websites and was downloaded more than a quarter million times. It was selected for the 2011 New York International Fringe Festival and was included in the FringeNYC Encore Series. She is currently writing a memoir based on the show while maintaining a weekly blog. She is a graduate of Vanderbilt University and attended the School of the Museum of Fine Arts in Boston.
In addition to her Oct. 21 performance, Burt will conduct a question-and-answer session Oct. 22 for the Women and Humor class taught by Sandy Stahl, associate dean of students and senior lecturer in women's and gender studies.
Contact: Sandy Stahl, (615) 322-6400
sandy.stahl@vanderbilt.edu