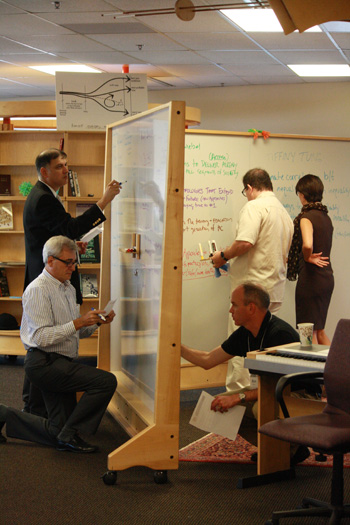 Vanderbilt's strategic planning process, which was outlined by Chancellor Nicholas S. Zeppos during the 2013 Spring Faculty Assembly, is now well underway. Nearly 200 faculty, representing all Vanderbilt colleges and schools, are leading this process. The faculty constituting the Executive Committee, four Steering Committees and four Academic Planning Groups have finished participating in a series of retreats to develop strategic initiatives that will leverage Vanderbilt's strengths as a leading research university in the 21st century.
Starting in June 2013, the Executive Committee began developing charges for the Steering Committees and their Academic Planning Groups. As identified by Chancellor Zeppos last spring, each Steering Committee tackled one of the following four themes:
Defining the 21st-century undergraduate residential experience in a research university setting;

Launching new trans-institutional programs that strengthen research, graduate and undergraduate programs;
Leading the development of digital technology for teaching and discovery; and
Developing innovative solutions for health care.
With the charge from the Executive Committee, the Steering Committees each held their retreats in September. These meetings generated exciting, bold ideas that will define Vanderbilt's values and vision for the coming years and decades. The Steering Committees are currently drafting reports that will reflect these creative discussions and be shared with the Executive Committee by mid-October.
Using these ideas and suggestions, the Executive Committee will produce a first draft of the strategic plan that will be presented to the chancellor by the end of November. During the 2014 spring semester, a series of town hall meetings will be scheduled to gather feedback from the faculty on the strategic plan's visions and recommendations. The plan will then be submitted to the chancellor by the end of the current academic year. Throughout this process, engaging the university community will be a priority.
Contact: Cathy Sgambati, (615) 322-0885
cathy.sgambati@vanderbilt.edu