Vanderbilt employees needed for annual disAbility Mentoring Day 2013
Sep. 25, 2013, 4:10 PM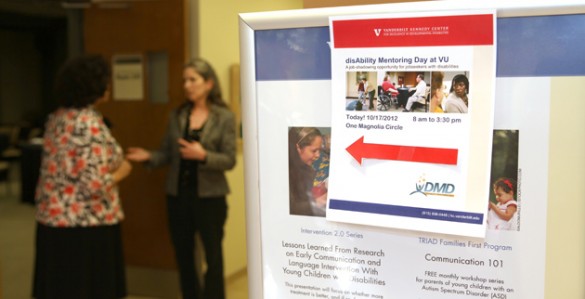 Vanderbilt Kennedy Center staffers are seeking Vanderbilt employees who are willing to mentor an individual with disabilities through job shadowing on disAbility Mentoring Day 2013, scheduled from 8 a.m. to 3:30 p.m. Oct. 16 in Room 241 of the Vanderbilt Kennedy Center/One Magnolia Circle Building, 110 Magnolia Circle, Nashville.
Those who are interested in mentoring must complete a brief online application by the Sept. 30 deadline.
Job seekers with disabilities who are interested in job shadowing can receive an application from Lynnette Henderson at (615) 936-0448 or lynnette.henderson@vanderbilt.edu.
October is National Disability Employment Awareness Month, and the annual disAbility Mentoring Day provides job shadow and career exploration opportunities designed to link jobseekers with disabilities to employers interested in fostering more diverse work cultures and/or hiring people with disabilities.
This event is sponsored by the Vanderbilt Kennedy Center for Excellence in Developmental Disabilities; Next Steps at Vanderbilt; Vanderbilt Human Resources; the Vanderbilt Equal Opportunity, Affirmative Action and Disability Services Department; the TN Division of Rehabilitation Services; the Vanderbilt Patient Return to Work Program; and Project Opportunity.
Contact: Lynnette Henderson, (615) 936-0448
lynnette.henderson@vanderbilt.edu.