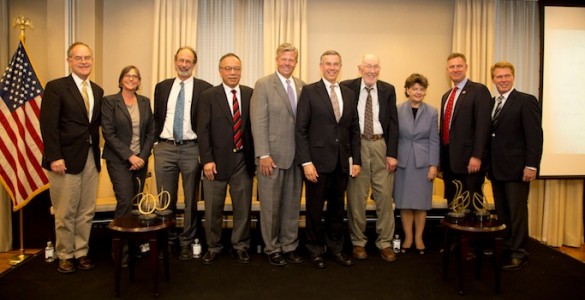 Tennessee Congressman Jim Cooper joined several of his colleagues to present the second annual Golden Goose Award on Capitol Hill Thursday. Dennis Hall, vice provost for research and dean of the Graduate School, is a member of the selection committee, and Vanderbilt is a sponsor of the video shown at the award ceremony. (Watch)
The award recognizes significant contributions to scientific understanding through federally funded basic research—research conducted with the goal of increasing scientific understanding rather than providing a solution to a specific problem. The Golden Goose Award is the brainchild of Cooper as a response to Sen. William Proxmire's Golden Fleece Award, which lampooned seemingly wasteful federal spending. The Golden Fleece Award often targeted federally funded research that did not appear to have a practical application, or that focused on questions that seemed unworthy of study.
The Golden Goose Award highlights federally-funded basic research that eventually led to important breakthroughs. "In this era of constrained budgets, we need to prioritize where we spend federal dollars," said Christina West, assistant vice chancellor for federal relations. "[rquote]History has shown over and over that federal investments in science and engineering research have significant returns on investment.[/rquote]"
This year's award recipients are:
John Eng, whose study of gila monster venom led to an important diabetes therapy that protects patients from some of the worst ravages of the disease. Eng discovered that the venom contained a compound that helps regulate blood sugar by stimulating the pancreas to produce insulin. The compound works more steadily than an insulin shot, which carries a risk of driving blood sugar too low. It is used today as the prescription drug Byetta.
Mathematicians Lloyd Shapley and David Gale (deceased) and economist Alvin Roth, who developed a marriage matchmaking algorithm that now underpins the national matching program for new medical residents and hospitals, as well as the National Kidney Exchange. The "deferred choice" algorithm was designed so that couples could be paired in such a way as to ensure that each person ended up with the mate most attracted to him or her.
Microbiologist Thomas Brock and glycobiologist Hudson Freeze, whose discovery of rare bacteria that thrive in boiling springs led the team to develop a way to study DNA that makes the fields of biotechnology and genomics possible.
No one could have predicted the important outcomes of these research initiatives at the time they were conducted—some more than 50 years ago. "This award is an important reminder that federal investments in fundamental science research can take years before it yields dividends—and those dividends are often unexpected and significant," said West. "We deeply appreciate Rep. Cooper's support of these investments."