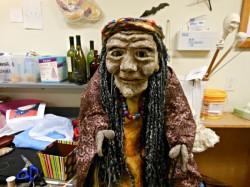 The adventures of ancient Maya mythical heroes will be dramatized in a free marionette show that premieres Sept. 26 at Vanderbilt University's Central Library.
"The Amazing Twins: Ancient Maya Tales from the Popol Wuj" was created by Vanderbilt's Center for Latin American Studies and the renowned puppeteers of the Nashville Public Library during a three-year collaboration.
The puppet show, which will be at 5:30 in the library's Community Room, is appropriate for children as well as adults. A reception will follow the performance.
"The Popol Wuj, which means community book, is one of the most important indigenous texts of the Americas," said Claire González, assistant director for outreach at the Center for Latin American Studies. "It contains ideas and histories dating back 2,500 years, allowing us to glimpse at an important piece of history. We are pleased to have worked with the Nashville Public Library and Nashville Public Library Foundation on this project."
This collection of myths and legends was written by K'iche' Maya, who dominated the Western Highlands during the 16th century. It was translated into Spanish in the 1700s by the Friar Francisco Ximènez."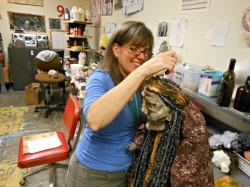 Following the premiere, the show will be presented Saturdays Sept. 28 through Oct. 19 at the Nashville Public Library. It will also become a permanent part of its renowned marionette series, traveling to hundreds of schools throughout the region. In addition, the Center for Latin American Studies and the Nashville Public Library will offer education on the marionette show to students and teachers at Wright Middle School as part of the Metro Nashville Public Schools Intercession Program.
Faculty and staff from the Center for Latin American Studies and the Nashville Public Library's Bringing Books to Life program have created curriculum resources for K-12 teachers to be used with the puppet show. These resources are available to educators online as well as during the center's workshops and other events.
For more information, email the Center for Latin American Studies or call 615-322-2527.