Center for Teaching is host for new international journal
Sep. 19, 2013, 10:49 AM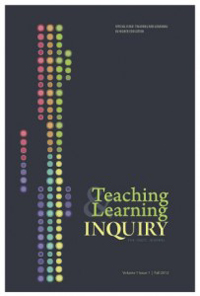 The first two issues of Teaching & Learning Inquiry, the official publication of the International Society of the Scholarship of Teaching and Learning (ISSOTL), are now available online and in print. Nancy Chick, assistant director of the Center for Teaching at Vanderbilt and senior lecturer in English, and Gary Poole, associate director of the School of Population Health and senior scholar in the Centre for Health Education Scholarship at the University of British Columbia, serve as the journal's co-editors. The editorial offices are at Vanderbilt's Center for Teaching, where Graduate Teaching Fellow Bernadette Doykos serves as the editorial manager. The journal is published by Indiana University Press.
Scholarship of Teaching and Learning, or SoTL, represents an international, multidisciplinary movement to better understand teaching and learning in the college classroom. It advances the practice of teaching by making its evidence-based research findings public and is a growing movement in post-secondary education. The second issue of TLI, published in early September, is a special issue titled "Writing Without Borders: 2013 International Writing Collaborative," the end product of a yearlong project in which 70 scholars from across the globe collaborated in groups of eight at a distance to write the articles that appear in the journal.
Published each March and September, TLI includes insightful research, theory, commentary and other scholarly works that document or facilitate investigations of teaching and learning in higher education. TLI values quality and variety in its vision of the scholarship of teaching and learning. Its pages will showcase the breadth of the interdisciplinary field of SoTL in its explicit methodological pluralism, its call for traditional and new genres, and its international authorship from across career stages.
Read the first issue of TLI.
Read the second issue of TLI.
To learn more about SoTL, see the CFT's new SoTL Guide.
ISSOTL has cultivated a strong international and interdisciplinary community, through the quality of its annual conferences and now also Teaching & Learning Inquiry. A subscription to TLI is a benefit of membership in ISSOTL.
For more information about the journal, visit its home page.
To subscribe, click "Subscribe or Renew" below the cover image.
Questions regarding submissions may be directed to TLI@vanderbilt.edu.
To order, call 1-800-842-6796 or visit http://jstor.org/r/iupress.
For more information, contact Marketing Manager Linda Bannister at (812) 855-9449 or llbannis@indiana.edu.