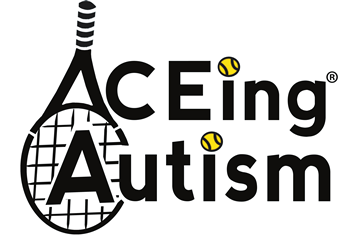 Children ages 6 to 14 years with an autism spectrum disorder can have fun learning tennis at the Centennial Sportsplex, thanks to the Vanderbilt Club Tennis Team and the leadership of Vanderbilt student Chandler Semjen.
ACEing Autism Tennis will be held every Sunday, 3-4 p.m., beginning Sept. 22.
For information and to register, contact chandler.r.semjen@vanderbilt.edu, (617) 733-5378. To ensure a student volunteer for each child, enrollment will be limited. Registration is on first-come, first-served basis. Click here to register your child online.
ACEing Autism uses tennis as a way to enhance health and fitness, hand-eye coordination, and motor development, and to improve the social skills of children with autism—and for children to have fun in the process. The program consists of warm-up, forehand/backhand hits, ball handling and racket drills, hand-eye coordination activities, and group games.
ACEing Autism Tennis was founded in 2008 in Boston by child neurologist Shafaili Jeste and tennis pro and MBA entrepreneur Richard Spurling. To date, ACEing Autism has provided organized tennis for hundreds of children with ASD across the U.S.
Semjen, director and coordinator for ACEing Autism, has been a tennis pro at Blackrock Country Club and has served as a summer camp counselor at Hingham Recreation Center in Hingham, Mass. He has been an ACEing Autism volunteer at the Weymouth Club in Weymouth, Mass. Semjen studies economics and finance, is active in the Vanderbilt Best Buddies Chapter, and serves as the Community Service Chair of the Club Tennis Team at Vanderbilt.
Contact chandler.r.semjen@vanderbilt.edu, (617) 733-5378