Media Inquiries
Latest Stories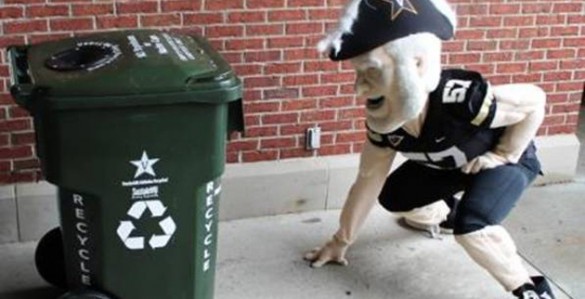 Vanderbilt Athletics, the Vanderbilt Sustainability and Environmental Management Office, and Waste Management, Inc. are looking for the greenest group on campus during this year's Athletics Sustainability competition.
Your group could win a catered VIP tailgate, tickets for 25 people, a signed premium item and on-field recognition at the Vanderbilt vs. Kentucky football game on Nov. 16. To qualify, tell us about the sustainable actions your department, organization or group regularly performs in order to make Vanderbilt a greener campus.
There are two ways to enter:
Applications are due by Friday, Sept. 27.
Finalists will be notified around Oct. 9 and asked to send two representatives to participate in a pre-game recycling competition in Vandyville before the Oct. 19 Vanderbilt vs. Georgia game to determine the ultimate winner.
Contact: Tiffany Renfro
tiffany.m.renfro@vanderbilt.edu