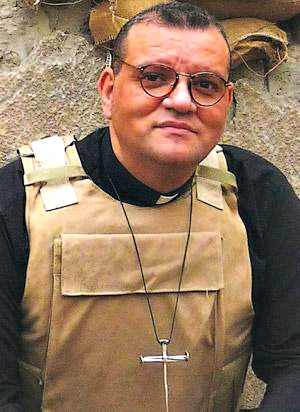 Canon Andrew White, pastor of one of the largest churches in Iraq, will discuss "Faith and Leadership Under Fire in the Middle East" Sept. 12 at Vanderbilt University Divinity School.
White will speak at 5 p.m. on the frequently dangerous challenges he faces as the vicar of St. George's Baghdad, the only remaining Anglican church in Iraq. His talk, which will be in the Divinity School Reading Room, is sponsored by the Cal Turner Program Lecture Series at Vanderbilt. Video of the lecture will be posted later at news.vanderbilt.edu.
St. George's Baghdad, despite significant threats to White personally and repeated bombings of the church, serves more than 4,000 Iraqis. They are mostly women and children since a significant number of husbands and fathers have been killed during years of violence in Iraq. White has also lost several members of his staff through the years.
"I have been detained at gunpoint, been thrown into a room with people's chopped-off fingers and toes all over the floor, and have had my picture posted on walls around Baghdad with a notice saying, 'Wanted, dead or alive,'" White said. "[rquote]Members of my church have been kidnapped or killed. I have lost many friends. It is very difficult but we never give up."[/rquote]
White has been very involved in conflict mediation and reconciliation efforts in Israel and Palestine, including negotiating the end of the Bethlehem siege in 2002, and has received peace prizes for his efforts.
The Christian priest's books and publications include Iraq: People of Promise, Land of Despair; Searching for Hope; The Vicar of Baghdad; Suffer the Children; Faith under Fire; and Father, Forgive.
The lecture, reception and book signing following the talk are free and open to the public. For more information, contact the Cal Turner Program for Moral Leadership in the Professions.