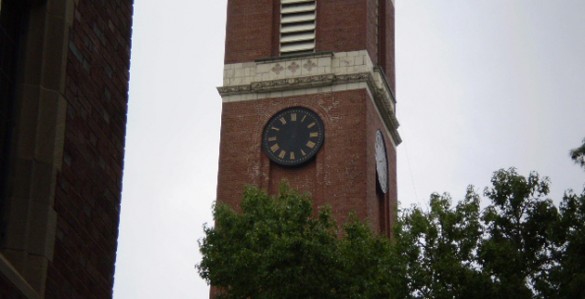 The bell inside the Kirkland Hall tower will fall silent Sept. 4 and 5 as long-awaited repairs are made to the tower's clock, which stopped keeping time in mid-June.
Prep work and wiring will be performed inside the tower on Wednesday. On Thursday, a technician from Verdin Bells & Clocks of Cincinnati, Ohio, will replace the clock's hands and install new machinery, according to Paul Young, facilities manager in Plant Operations. The bell will not ring as these repairs are being made.
The Kirkland Hall clock stopped keeping time in mid-June due to age. Until then, its motor, installed in 1966, had run continuously for nearly half a century.
On Aug. 2, the clock's hands were removed and shipped to the Verdin company to be retrofitted for a new shaft. The bell, which is powered by a separate electronic mechanism, continued to ring on the hour while awaiting the repairs.
If all goes well and repairs remain on schedule, the clock should be returned to full working order by Friday morning.
Read more about the Kirkland Hall clock tower.