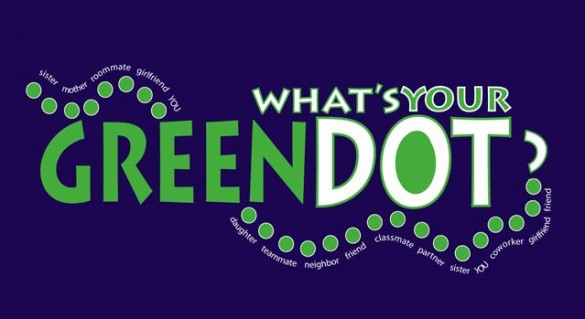 Vanderbilt Student Government and a coalition of Vanderbilt student organizations are encouraging all those attending the university's football season opener against the University of Mississippi on Thursday, Aug. 29, to wear a "green dot" to emphasize shared responsibility in campus safety.
"We believe that together we can send a message that we are a caring community that is committed to treating one another with respect and dignity," Isaac Escamilla, Vanderbilt Student Government president, said in an email to fellow students Aug. 28 and a letter to The Hustler student newspaper. He expressed concern about the June 23 incident that led to criminal charges of sexual assault against four Vanderbilt students and a related charge against another student.
The green dot is the symbol and name of a national program designed to provide a comprehensive approach to violence prevention that capitalizes on the power of peer and cultural influence.
Students will be handing out green dot stickers outside the stadium on Thursday.
"I am proud of our students for taking a such a strong leadership role in demonstrating the values of friendship, civility and mutual respect  that we all cherish as a campus community," Chancellor Nicholas S. Zeppos said. "At Vanderbilt, we each share the opportunity, and the responsibility, to ensure our campus is a safe, respectful and supportive environment for all. I will be wearing my green dot and encourage all Vanderbilt friends and fans to do the same."
The student-inspired show of support at Thursday's football game adds to yearly Green Dots awareness efforts, including a partnership between the program and the university's athletic department. During the 2013-2014 academic year, all Vanderbilt athletics teams will wear a green dot on their uniforms during their seasons.
Green Dots has been adopted at a number of colleges and universities across the country. Vanderbilt adopted the model in 2009. The Green Dots model targets all community members and seeks to engage them, through awareness, education and skills-practice in proactive behaviors that establish intolerance of violence as the norm, as well as reactive interventions in high-risk situations – resulting in the ultimate reduction of violence.
For more information, visit the Green Dots website.