Media Inquiries
Latest Stories
The Rev. Dr. Emilie M. Townes was installed Aug. 23 as the Vanderbilt Divinity School's 16th dean during an emotional service that included reflections on Townes' accomplishments from her new Vanderbilt colleagues as well as Dr. Harold Attridge, the immediate past dean of Yale Divinity School.
Chancellor Nicholas S. Zeppos and Richard McCarty, provost and vice chancellor for academic affairs, praised Townes, who holds the E. Rhodes and Leona B. Carpenter chair in womanist ethics and society, for her internationally renowned scholarship as well as her leadership skills.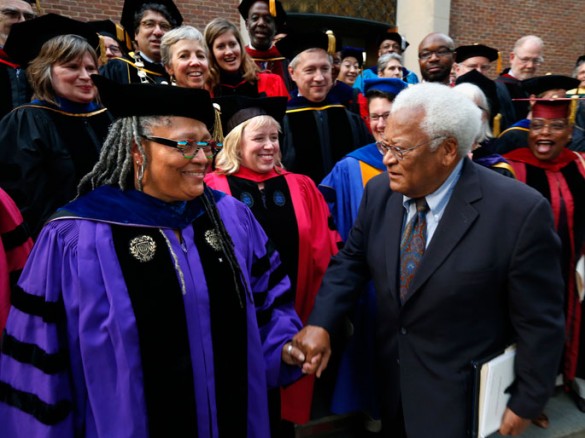 Approximately 400 faculty, students, alumni and other well-wishers filled Benton Chapel.
They included the Rev. James Lawson, a Vanderbilt University Distinguished Alumnus and 1960s Civil Rights leader who has donated his papers to Vanderbilt Special Collections.
During Townes' convocation address, which she titled "Launching Pad," she discussed her deep commitment to integrate spirituality and social justice/social witness in her teaching and research.
"I am excited about becoming part of this slice of God's cloud of witnesses as we shape ourselves into being responsive to holding traditions and the future together," Townes said. "Not out of a sense that traditions are static but with an appreciation for the fact that they are dynamic and actually morph and change, though slowly at times. And also not out of a sense that the future is some magic potion that allows us to neglect the work we must do today."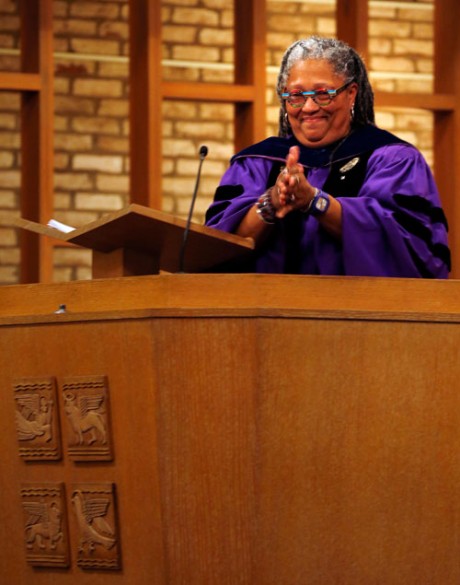 The Temple Church Choir of Nashville performed several musical selections, opening with the Michael Jackson song Man in the Mirror, which was featured in the 2012 movie Joyful Noise.
The choir is directed by the Rev. Victor Wynn, who earned his master of theological studies and doctor of jurisprudence at Vanderbilt in 2002.
Dave Perkins, a Nashville singer-songwriter and associate director of the Religion in the Arts and Contemporary Culture program, performed the song To Be Redeemed, one of the songs he composed for the soundtrack for the film Deadline.
Perkins is also a Vanderbilt alumnus, having earned his master of divinity in 2003 and doctorate in religion in 2011.
Townes was introduced by Bonnie Miller-McLemore, E. Rhodes and Leona B. Carpenter Professor of Religion, Psychology, and Culture, who was a graduate school classmate of the new dean 35 years ago.