Before stepping on campus this fall, students new to Vanderbilt were asked to consider actions they could take to better ensure their personal safety, as well as learn about the campus resources available to them.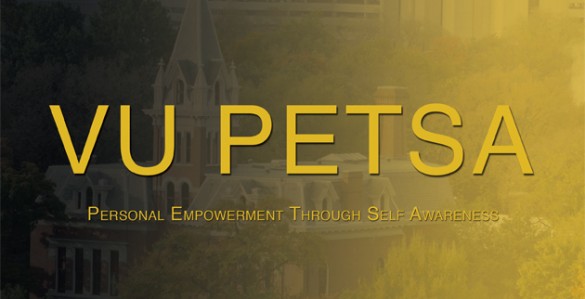 Vanderbilt first-year and transfer students were required to complete the VU PETSA online tutorial before the start of the 2013-14 academic year. Vanderbilt University PETSA, which stands for Personal Empowerment Through Self Awareness, was adapted from a program created by the University of Montana. In the works at Vanderbilt since early this year, it seeks to address issues of power-based personal violence, such as intimate partner violence, sexual assault, stalking, identity-based targeting and bullying.
The online tutorial consists of seven two- to three-minute videos, followed by a quiz, and requires 20-30 minutes to complete. VU PETSA meets new requirements of colleges and universities under the Campus Sexual Violence Elimination Act, a provision of the Violence Against Women Reauthorization Act that was signed into law on March 7, 2013.
It also helps standardize Vanderbilt's communication about issues of power-based personal violence to students.
"We've used a number of ways in the past to communicate with students about these issues, but there hasn't been a systematic way of reaching out to all first-year students, for example," said Kayce Matthews, associate director of the Margaret Cuninggim Women's Center at Vanderbilt and program coordinator for VU PETSA. "[lquote]This training is one way that every student who steps onto campus can get information about the resources available to them and learn actions they can take to help ensure their personal safety."[/lquote]
This summer, incoming freshman and transfer students were notified in multiple ways to complete the online tutorial through OAK, Vanderbilt's course management system, before coming to campus. Those who had not done so prior to Aug. 17 must now complete the training under the supervision of the Office of Student Accountability, Community Standards and Academic Integrity.
Vanderbilt plans to require VU PETSA for first-year and transfer students each year going forward. Some upperclassmen, including VUceptors, resident advisers and ConnectDores, also participated in the training as part of their orientations. Vanderbilt Divinity School is requiring the tutorial for all of its first-year students, and the Center for Teaching will use the training with new faculty and graduate students.
All Vanderbilt faculty and staff are encouraged to learn more about VU PETSA by self-enrolling in the tutorial using their VUnet ID and e-password. The videos also can be viewed here.
The Women's Center and Office of Student Accountability are conducting follow-up sessions with first-year and transfer student, VUceptors and resident advisers to determine the effectiveness of the training. They will share these assessments with the University of Montana.
"This is a pilot year to get the information out there, as well as to gather feedback to determine how we can improve the program," Matthews said.
Campus partners on VU PETSA include the following:
Center for Teaching
Dean of Students Information Technology Support
Equal Opportunity, Affirmative Action and Disability Services Department
Jean and Alexander Heard Library
The Margaret Cuninggim Women's Center
The Martha Rivers Ingram Commons
Office of the Dean of Students
Office of Housing and Residential Education
Office of the Provost
Office of Student Accountability, Community Standards and Academic Integrity
Parents and Family Programs
The Provost's Committee on Sexual Assault
University Compliance Office
Vanderbilt University News and Communications
Vanderbilt University Police Department
For more information, visit the VU PETSA website.
Contact: womenctr@vanderbilt.edu