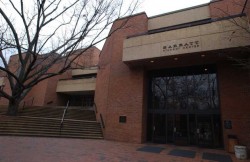 Vanderbilt's Sarratt Gallery and Sarratt Art Studios are calling for submissions for the first annual "It's a Scream: Images from Nightmares" exhibit.
Vanderbilt faculty, staff and members of their immediate families may submit original works of art that reflect the exhibit's theme of nightmares, fears and phobias. Artists also may submit work inspired by Dios de la Muertos.
The exhibit is open to most mediums, including paintings, photographs, mixed media works and masks. Pedestal pieces will not be accepted this year. All work must be ready to hang on the wall.
Artists may submit up to three works. There is no juror's fee.
The final exhibit will take place in the Sarratt Gallery and in the ACE gallery area, both located in Sarratt Student Center.
Important dates:
Oct. 1–3
10 a.m.–7 p.m.
Deliver artwork to be juried to Sarratt Student Center, Room 123. Artists will complete an application and ID form upon delivery. There is no juror's fee.
Oct. 9
Selected artists will be notified by email.
Oct. 9–11
10 a.m.–7 p.m.
Work that is not selected must be picked up from Sarratt Art Studios, which will not be responsible for unselected works after this time.
Contact: David Heustess, (615) 343-0491
david.f.heustess@vanderbilt.edu