Sign up now for fall classes at Blair
Aug. 14, 2013, 9:30 AM
Blair School of Music is now registering students for its Precollege and Adult Program classes for fall 2013.
Sign up now for lessons on many instruments, including flute, oboe, clarinet, bassoon, trumpet, French horn, trombone, tuba, violin, viola, cello, string bass, piano, guitar, fiddle, dulcimer and mandolin.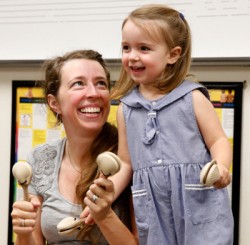 Music for the young child classes include:
Kindermusik for infants through age 6

Partner Piano for ages 3-10
Suzuki Violin and Cello for ages 3 and up
Classes for adults include:
Performing ensembles include:
Blair Children's Chorus

Nashville Youth Orchestra
Vanderbilt Community Chorus
Auditions for the Curb Youth Symphony are now open through Aug. 24, with percussion auditions scheduled for Aug. 18 only. Auditions for the rest of the Youth Orchestra program will be held Aug. 20, 22, 27 and 29.
Blair is now accepting credit card payment for registration.
Registration form for all other programs
Contact: (615) 322-7659
blair.vanderbilt.edu