Alumni Association Board Adds New Members
The Vanderbilt University Alumni Association Board of Directors welcomes seven new members.
"Our new members are active alumni who generously donate time, treasure and talents to Vanderbilt and also represent the increasing diversity of our alumni population," says Patti Early White, BA'76, chair of the Board Nominations Committee.
The following alumni began a three-year term July 1:
 Cathy Cox, BE'95, has served as co-president of the San Diego Alumni Association Chapter.
 Lauren Duncan, BS'01, serves on the Nashville Chapter Steering Committee and was vice president of the Association of Vanderbilt Black Alumni.
 Jonathan Ian Glasgow, BA'98, was president of the Philadelphia Chapter and is working to start a chapter in his new home of Baltimore.
 Michael Han, MS'97, is athletics chair on the Nashville Chapter Steering Committee. His son, Oliver, is a 2012 Vanderbilt graduate.
 Dan Lovinger, BA'87, created and leads the successful Vanderbilt on Madison Avenue internship program in New York. His son, Nicholas, is currently enrolled in the Class of 2015.
 Matthew Pender, BA'92, is the former president and an active volunteer with the Miami Chapter.
 Dr. Jeff Spencer, BS'83, MD'87, is an active CoRPs volunteer in Harrison, N.Y., and a class gift chair for the School of Medicine. His daughter, Maddy, is enrolled in the Class of 2016.
The Vanderbilt University Alumni Association works to engage alumni in the life of the university and its students, and to encourage lifelong connections among alumni and support of the university's goals. Learn more.
---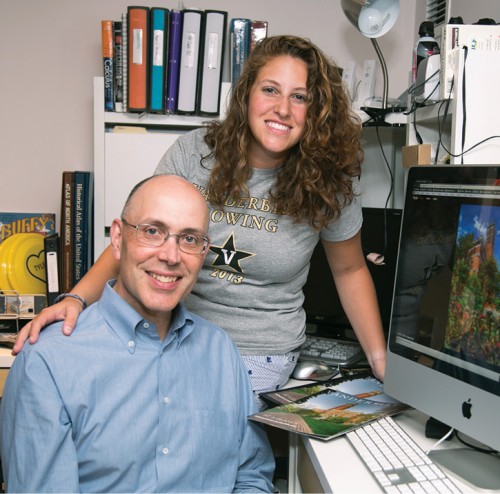 This CoRPs Wants You
With more than 31,000 applications received for the Class of 2017, Vanderbilt is red hot. By representing Vanderbilt at college fairs, interviewing applicants and contacting accepted students, alumni CoRPs volunteers extend the reach of the undergraduate admissions office with a personal touch.
New York resident Dr. Jeff Spencer, BS'83, MD'87, first volunteered for CoRPs—Commodore Recruitment Programs—15 years ago to help introduce high school students to Vanderbilt's unusually beautiful campus within an urban setting.
"The university was a hidden gem [to New Yorkers] then," says Spencer. "But today New York ranks second only to Tennessee as home to the most undergraduate students. I sometimes spend entire Sunday afternoons interviewing Vanderbilt applicants."
Debbie Lieb, BA'87, has interviewed more than 200 seniors and has represented Vanderbilt at many college fairs in New Jersey. She loves advising students, both during the fairs and at the critical waitlist stage.
"I reach out to students on the waitlist to let them know they are still part of a select group, and I share some steps they can take to distinguish themselves," says Lieb.
Although he sees need for more volunteers, Spencer loves his role with CoRPs and considers it a great opportunity for fellow alumni. "If you love Vanderbilt and enjoy speaking to high school students, this is a great way to get involved," he says.
Lieb agrees. "It's a great experience, and I feel like I have really helped some fantastic kids."
Vanderbilt welcomes CoRPs volunteers from everywhere, but particularly needs alumni from the New York City area, Atlanta, Chicago and the West Coast. Volunteer online, or call (615) 322-2929.