Commodore fans are encouraged to wear all black Thursday, Aug. 29
Get ready to anchor down!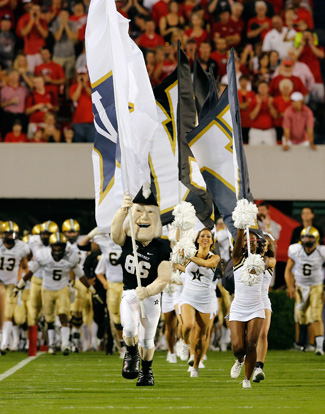 Vanderbilt is participating in the second annual College Colors Day spirit competition and is asking for fan support to help win the national Spirit Cup award, which includes $10,000 toward the university's general scholarship fund.
By visiting facebook.com/collegecolorsday, Commodore fans can register to vote for Vanderbilt as the school with the most college spirit and the most loyal fan base.
After placing a vote, fans will have the opportunity to win prizes and discounts through an instant win game, view and submit photos to the College Colors Day fan photo gallery, and download a custom Facebook cover photo promoting Vanderbilt for College Colors Day.
The Spirit Cup competition includes more than 160 participating colleges and universities and is part of this year's 2013 College Colors Day celebration. The competition kicks off Monday, Aug. 12, and runs through 11:59 p.m. EST on Thursday, Aug. 29.
Fans can vote once each day and can check who is winning the competition nationally as well as within each conference. The winner will be announced on College Colors Day, Friday, Aug. 30.
College Colors Day is an annual celebration dedicated to promoting the traditions and spirit that embody the college experience by encouraging fans across America to wear their favorite college or university apparel. Vanderbilt will observe College Colors Day on Thursday, Aug. 29, for the football season opener against Ole Miss. Commodore fans are encouraged to wear all black throughout the day and for the game. Vanderbilt also will observe the official College Colors Day on Aug. 30.
The Spirit Cup competition is presented by The Collegiate Licensing Company, a division of IMG College, and NCAA Football.
Contact: Mary Ann Daniel-Kaszuba, (615) 322-4461
maryann.daniel-kaszuba@vanderbilt.edu