Athletics
by Aug. 9, 2013, 12:44 PM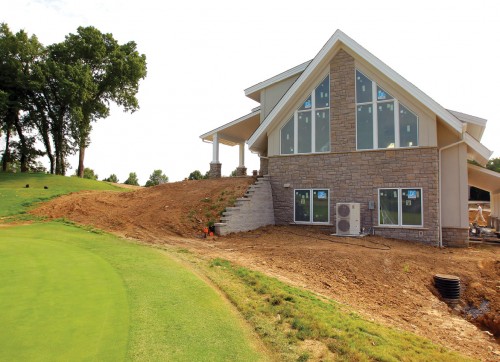 Full Swing
New facilities boost golf teams
The Vanderbilt men's and women's golf teams will soon benefit from improvements at Vanderbilt Legends Club in Franklin, Tenn. The $2.3 million project includes a new instruction facility with state-of-the-art hitting bays and a 4,900-square-foot varsity clubhouse that will house both the men's and women's locker rooms. The instruction facility opened in April. The clubhouse will be completed in August.
"Vanderbilt is serious about golf, and our goal is to win championships," said Director of Athletics David Williams when construction began in December 2012. "We have great coaches and strong team foundations in place, and soon our facilities will be second to none. We thank the generosity of our donors who made this project possible, with a special mention to Vanderbilt alumnus and golf enthusiast Lew Conner [BA'60, JD'63] for his undying support of this project."
Women's Golf Head Coach Greg Allen believes the facilities will offer Vanderbilt several advantages. "These new buildings will help our teams continue to improve every day, as well as help us tremendously in the recruiting game," he says. "We're excited about the team camaraderie that will take place in the clubhouse."
………………………………………………………………………………………………………………………………….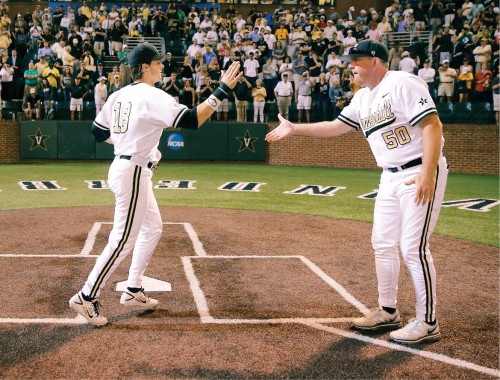 In the Books
Record-setting baseball season cut short
Vanderbilt baseball fell just short of making its second-ever trip to the College World Series in Omaha, Neb. The Commodores were eliminated by the Louisville Cardinals in an NCAA Super Regionals matchup in Nashville June 9. The Cardinals swept the best-of-three series 5–3 and 2–1.
"They did what no other team has done to Vanderbilt all year, which was come in and beat them twice," said Head Baseball Coach Tim Corbin. "That's a tall task for a team, especially with the gang we've assembled. I thought they pitched very well, and they just held us down."
Despite the disappointing ending, it was a memorable season for the Commodores. The team tied its all-time wins mark with a 54–12 record and set an SEC record with 26 conference victories. In addition, Baseball America, Collegiate Baseball and the National Collegiate Baseball Writers Association recognized several Vanderbilt players, including junior second baseman Tony Kemp, who was named a consensus first-team All-American. Kemp also was selected the SEC Player of the Year—becoming the only Commodore besides Hunter Bledsoe, BS'99, to receive the honor.
Corbin attributes much of the season's success to the invaluable leadership of his senior players. "What I'll remember about the team are the seniors. Mike Yastrzemski [BA'13] didn't have to come back to school, and Connor Harrell [BA'13] didn't have to come back to school," he said. "Male athletes today just aren't wired like that. Those guys are different. They're humble, they're accepting of young people. Leadership qualities for them come naturally."
See a slideshow of images from the Vanderbilt–Louisville matchup.
………………………………………………………………………………………………………………………………….
ACCOLADES
Tennis standout Ryan Lipman named All-American
Rising senior Ryan Lipman, who finished the 2013 season ranked No. 10 in the country in singles with an overall record of 31–11, has been named an All-American by the Intercollegiate Tennis Association. Lipman is just the fourth-ever Vanderbilt men's tennis player to receive the honor.