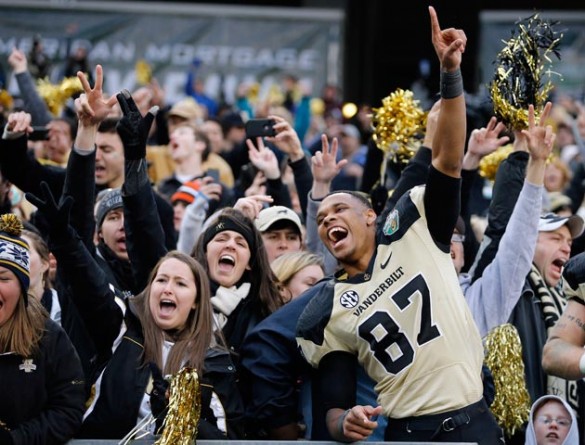 Discounted tickets for the 2013 home football season are now available for all full-time Vanderbilt employees.
The Commodores are coming off an historic nine-win season that saw them capture the Franklin American Mortgage Music City Bowl. After playing at Vanderbilt Stadium six times in 2012, the Commodores will play in front of their home fans seven times in 2013.
The home schedule includes SEC rivals Ole Miss, Missouri, Georgia and Kentucky. Non-conference opponents visiting Vanderbilt Stadium include in-state rival Austin Peay, the University of Alabama-Birmingham and Atlantic Coast Conference foe Wake Forest. The highly anticipated season comes on the heels of a year in which Vanderbilt Stadium was sold out three times – the most of any season since 1996.
Employees will have the opportunity to purchase up to two sideline seats at a discounted rate of $255 per seat – a savings of $60. The non-employee discounted rate for sideline season tickets is $315 for the seven-game home schedule.
Employees looking for a less expensive option can purchase tickets in the south end zone for just $160, which is less than $23 per game.
At the north end of the stadium, employees can purchase a season ticket on the grass hill for only $145. On the hill, blankets are welcome and the grass offers the ideal spot for young children to run around.
The ever-popular Family Plan is back for the 2013 season. The Family Plan includes two adult season tickets and two youth season tickets in the south end zone for just $455, which amounts to just $16 per ticket per game.
Vanderbilt employees are also eligible for payroll deduction for their season tickets.
"Vanderbilt employees are a critical part of our fan base, and we want them in the stands cheering on the Commodores," Director of Sales and Marketing Steve Walsh said. "Between the discounted employee tickets, the north and south end zone offerings and the Family Plan, we feel that we are the best sports value in Middle Tennessee and across the state for Vanderbilt employees."
To order tickets for the 2013 Commodore football season, contact the Vanderbilt Ticket Office at (615) 322-GOLD (4653), or online at vucommodores.com.
Contact: (615) 322-4653
vucommodores.com