James R. Sasser, a former three-term U.S. senator from Tennessee and ambassador to the People's Republic of China, and his wife, Mary Sasser, have donated their papers to Vanderbilt University's Special Collections.
"We are deeply grateful that Jim and Mary Sasser, treasured alumni who have devoted their lives to outstanding public service on behalf of Tennessee and the nation, have chosen Vanderbilt as the home for their archives," Chancellor Nicholas S. Zeppos said. "Having first-hand information from Jim's career as a senator and ambassador and from Mary's work in bridging cultures will offer Vanderbilt scholars an invaluable level of insight into a vital time in our world's history. These papers will be a pivotal part of the work of researchers for many generations to come in advancing understanding of global affairs."
"Mary and I have chosen Vanderbilt as the home for our records because in many ways it is where our journey began," James Sasser said. "We met as students there in the '50s and the education that it provided us, as undergraduates and then for me as a law student, proved to be the foundation for decades of public service for which we are both enormously grateful. [rquote]We are hopeful that this record, and all of the stories that it tells, will be useful to future students, scholars and researchers."[/rquote]
The Sasser family has many ties to Vanderbilt. James Sasser earned his bachelor's degree in 1958 and his law degree in 1961. Mary Sasser received her bachelor's degree in 1959. They first met in a history class in the College of Arts and Science. Their son, James Gray Sasser, is a 1998 graduate of the Law School.
"The senator's papers are a treasure, providing insights into some of the most significant political and global issues of our time," said Connie Vinita Dowell, dean of libraries. "Among our most important collections, the Sasser Archives will serve as an invaluable resource not only for Vanderbilt scholars, but also for researchers from around the world. I am especially pleased that Mary and Jim Sasser decided to open their papers to the public as soon as the preservation process is complete. [lquote]I knew I was touching history when I held the photographs and correspondence in the Sasser Archives, and I want our Vanderbilt students to have that experience too."[/lquote]
Included in the papers will be photographs and other memorabilia from the couple's time in China. James Sasser served as ambassador from 1996 to 1999. He played an important role in strengthening Sino-U.S. relations and developing close working relationships with President Jiang Zemin and other Chinese leaders. The ambassador and Mary Sasser hosted President Bill Clinton and then-First Lady Hillary Clinton during their historic eight-day trip to China in 1998.
The collection contains materials from one of the scarier times during Sasser's ambassadorship. In May 1999, NATO mistakenly bombed the Chinese embassy in Belgrade, sparking violent, anti-American protests in Beijing and other cities across China. The ambassador was trapped inside the defaced embassy for four days.
Sasser represented Tennessee in the U.S. Senate from 1977 to 1995. Included in the archival material is the gavel he used while chairing the Senate Budget Committee for six years. During that time the senator worked with Presidents George H.W. Bush and Bill Clinton as well as his senate colleagues from both parties to pass fiscal reform measures that eliminated the federal deficit for the first time in a generation.
James Sasser is a Distinguished Senior Fellow at the Global Research Institute at the University of North Carolina at Chapel Hill. He was honored as Vanderbilt Law School's Distinguished Alumnus in 1998.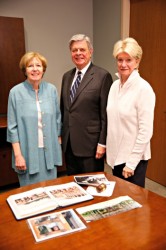 Mary Sasser taught in public schools in Memphis and Nashville after graduating from Vanderbilt. In Nashville, she was active in organizations that included the Nashville Women's Political Caucus, League of Women Voters and Historic Nashville. During her husband's years in the Senate, she co-founded a celebrity speakers bureau with a list of prominent authors, journalists, athletes and business leaders.
While in Beijing, she hosted many groups to promote the advancement of women in business around the world. One of the goals was to identify universal and culture-bound factors that have led to the success or failure of women entrepreneurs. She also hosted several exhibitions of Chinese and American art at the ambassador's residence to showcase the richness and variety of the art of both cultures.
The Sassers returned to the United States in 1999 and now reside in Washington, D.C. In addition to their son, Gray, they have a daughter, Elizabeth, and three grandchildren.