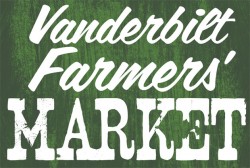 Are you trying to eat fresh and healthy this summer?
Participate in the Health Plus More Matters program and focus on eating more fruits and vegetables. Click here to take the 10-week More Matters summer challenge.
Check out this brochure from ChooseMyPlate.gov. It will give you all sorts of helpful tips on what to eat and how to eat your way to a healthier you.
The Vanderbilt Farmers' Market comes right to your doorstep! The market runs every Thursday from 3 to 6 p.m. on Medical Center Plaza. (No market July 4.) With an incredible list of vendors this year, don't miss out on the delicious fresh offerings. Learn more details here.
More options for fresh and healthy eating:
Health Plus provides resources to support the health of Vanderbilt faculty and staff.