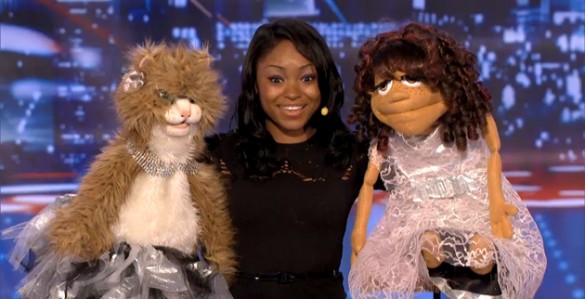 Vanderbilt student Megan Piphus has wowed the judges with her ventriloquism skills on the NBC television show America's Got Talent.
The College of Arts and Science senior appeared on the current season's second episode, which featured talent acts filmed in San Antonio and New Orleans.
Judges Howard Stern, Heidi Klum, Mel B and Howie Mandel unanimously and enthusiastically voted Piphus through to the Las Vegas round.
Watch Piphus' appearance on America's Got Talent.
"Megan is a talented ventriloquist, but her singing ability is really what gets noticed tonight," according to the NBC website. "She probably would have gotten a pass to Vegas just by taking the stage and singing, but the ventriloquism angle just adds another level of intrigue to this talented performer's act."
A Cincinnati native, Piphus has previously been featured on The Tonight Show with Jay Leno and The Oprah Winfrey Show's "World's Smartest and Most Talented Kids" episode.
Piphus is the reigning Miss Black Tennessee and the founder of Color My Dream, a motivational program where she uses mentoring, ventriloquism, puppetry and music to empower youth to recognize their talents and reach for their dreams.
America's Got Talent airs locally on WSMV, Channel 4. Check the NBC schedule for listings.