Media Inquiries
Latest Stories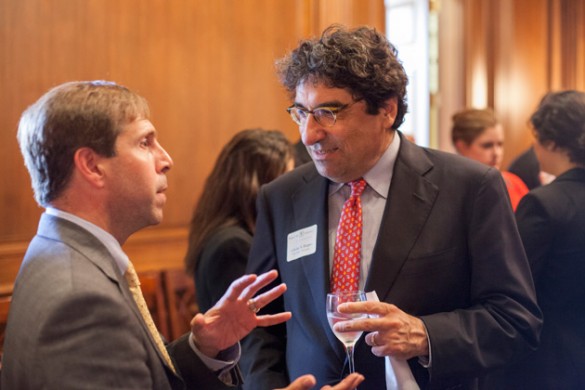 Vanderbilt Chancellor Nicholas S. Zeppos and other state leaders met with members of Tennessee's congressional delegation in Washington, D.C., last week to urge support for sustained federal investments in science and engineering research and to emphasize the importance of these investments to the state of Tennessee. Zeppos, University of Tennessee President Joe DiPietro and Oak Ridge National Laboratory Director Thom Mason, whose combined organizations represent more than 44,000 employees and more than 62,000 students, shared with members of Congress the impact so far of across-the-board budget cuts, also known as sequestration.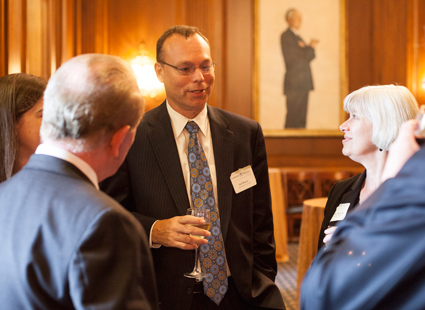 Speaking with a collective voice, Zeppos, DiPietro and Mason acknowledged the need to address budget deficits and entitlements but urged federal policymakers to reverse the harmful sequester cuts and identify research and development as an important national priority. The joint visit followed up on an op-ed Zeppos and DiPietro wrote late last year.
Vanderbilt's Office of Federal Relations hosted its biennial reception honoring Tennessee's congressional delegation on the evening of June 12 in the Mansfield Room of the U.S. Capitol. Nearly 100 individuals attended the event, including members of the Tennessee congressional delegation, Vanderbilt University Law School alumni Reps. Leonard Lance (R-NJ) and Luke Messer (R-IN), congressional staff, Vanderbilt alumni and Vanderbilt senior leadership. Joining Zeppos at the event were Vice Chancellor for Health Affairs Jeff Balser, Vice Chancellor for Public Affairs Beth Fortune, General Counsel Audrey Anderson, Deputy Vice Chancellor for Health Affairs C. Wright Pinson, Monroe Carell Jr. Children's Hospital at Vanderbilt CEO Luke Gregory, Vanderbilt Hospital and Clinics CEO David Posch and Executive Chief Nursing Officer Marilyn Dubree.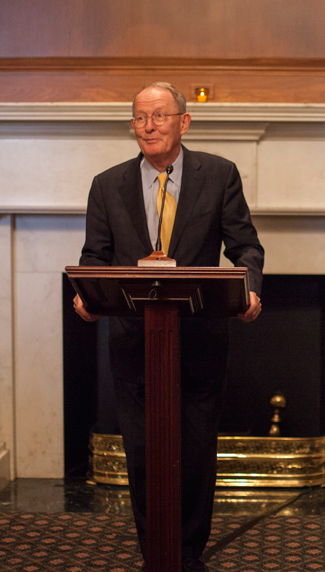 In remarks at the reception, Zeppos commended the delegation for understanding the importance of federal investments in science and engineering research and education. Zeppos also spoke about the partnership that exists between Vanderbilt, the University of Tennessee and the Oak Ridge National Laboratory and the economic impact these entities have on the state of Tennessee. Sen. Lamar Alexander (R-TN), in brief remarks at the reception, expressed his strong support for increasing federal budgets for research and development.
In separate meetings with colleagues from leading academic medical centers, Balser met with senior health policy staff on the Senate Finance Committee, from the Bipartisan Policy Center and from the National Economic Council in the Executive Office of the President to discuss federal policies related to graduate medical education.
Pinson, CEO of the Vanderbilt Health System, also met with federal lawmakers to discuss continued support for TennCare/Medicaid disproportionate share hospital payments. Pinson met with senior staff to Rep. Phil Roe (R-TN), Rep. Diane Black (R-TN) and Rep. Marsha Blackburn (R-TN).
Contact: Christina West, (202) 216-4370
christina.d.west@vanderbilt.edu