Yeu-Matchuc brings native dance celebration to Vanderbilt
by
Ann Marie Deer Owens
May. 24, 2013, 5:18 PM
Yeu-Matchuc will perform ancient songs and dances from the indigenous Yoreme community of Sinaloa, Mexico, June 5 at noon on Vanderbilt University's Library Lawn.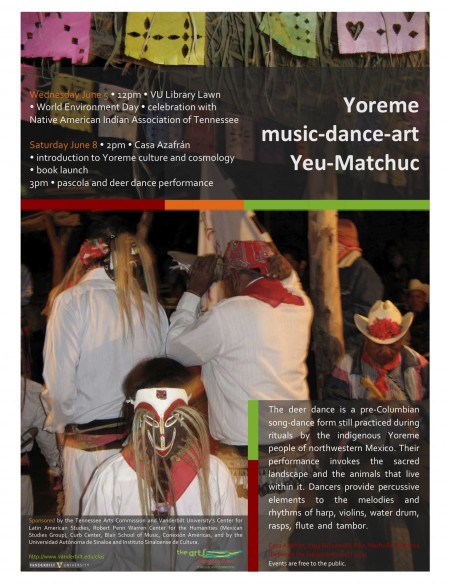 The performance, which is part of the World Environment Day celebration with the Native American Indian Association of Tennessee, is free and open to the public.
"It is rare to witness ceremonial music in Mexico, not only because many indigenous groups keep their spiritual life and expressions under wraps, but also because much of it has been mixed over the years with Mestizo elements," said Helena Simonett, assistant professor of Latin American Studies and associate director of the Center for Latin American Studies at Vanderbilt. Simonett has collaborated with Bernardo Esquer López, the artistic leader of Yeu Matchuc, in the publication of a bilingual (Yoreme-Spanish) children's book.
Simonett noted that the economic underdevelopment of the indigenous Mexican communities, accentuated by recent economic downturns, has limited the opportunities for the social and cultural development of many native communities. "Yeu-Matchuc will perform ancient dances and deer songs that invoke the mythical landscape and the animals that live within it."
In addition to the performance at Vanderbilt, Yeu-Matchuc will perform at Casa Azafrán, located at 2195 Nolensville Pike, on June 8 at 3 p.m. One hour prior to that performance at Casa Azafrán, there will be an introduction to Yoreme culture and cosmology with Simonett and López and discussion of their children's book project.
"The story narrated in the book is performed by the dancers at the beginning of each ceremonial fiesta and witnessed by the attending Yoreme children without understanding the significance of the myth performed," Simonett said. "The book is a testimony to Bernardo Esquer's engagement in the cultural education of the children in his community."
The two events are co-sponsored by the Center for Latin American Studies, Tennessee Arts Commission, Robert Penn Warren Center for the Humanities (Mexican Studies Group), Blair School of Music, Curb Center, Conexión Amèricas, Universídad Autónoma de Sinaloa and Instituto Sinaloense de Cultura.
For more information, contact the Center for Latin American Studies at 615-322-2527.