Media Inquiries
Latest Stories
The copyright system of the United States requires "a comprehensive review and modernization," a Vanderbilt Law School professor testified before a Congressional subcommittee in Washington May 16.
"It may indeed be time to embark on the process that will give us the 'Next Great Copyright Act,' as was done three times in the past (Copyright Acts of 1790, 1909 and 1976)," said Daniel Gervais, director of the Vanderbilt Intellectual Property Program at Vanderbilt Law School, in prepared testimony.
"So much has happened since 1976 when personal computers, the Internet, the digitization of music and the phenomenon of social media were not yet realities."
Gervais testified before the Subcommittee on Courts, Intellectual Property and the Internet of the Committee on the Judiciary of the House of Representatives.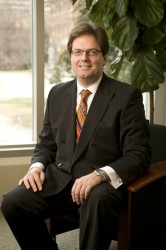 "America is at its best when it produces and exports intellectual property," Gervais testified. "As the transition to the digital realm continues, it is absolutely essential to get copyright policy right."
Copyright should allow professional creators to get a fair return on their creative investment when their work is successful in the marketplace, in Gervais' view.
"It should also allow many sustainable business models to flourish in producing, exporting and providing access to U.S. copyrighted material around the world," he said.
It is urgent for the United States to be a leader in discussions about global copyright, which has come to look more like a patchwork of rules than a coordinated strategy of laws, Gervais said.
The full version of Gervais' prepared testimony will be posted at Gervais' website.