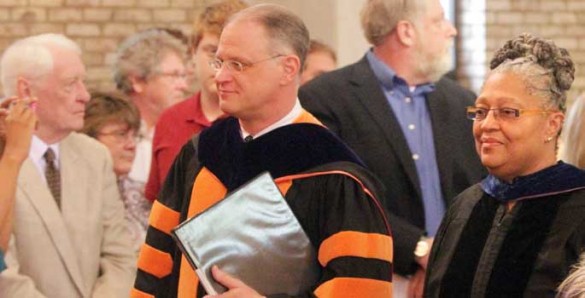 James Hudnut-Beumler, who is stepping down as dean of Vanderbilt Divinity School after 13 years, presented to his successor two gifts—an inscribed history of the school and a blank journal—during an emotional celebration service for graduates and their families.
Hudnut-Beumler said that he was giving incoming dean Emilie M. Townes a book edited by retired Professor Dale Johnson "…so you may know who we have been. The second is a blank journal, so that with you as our dean, you may write the next chapter in our history." Several Vanderbilt Divinity professors and alumni contributed to the book, Vanderbilt Divinity School: Education, Contest, and Change (Vanderbilt University Press, 2001).
During Hudnut-Beumler's "charge" to Townes, who will become dean July 1, he encouraged her to "do justice, love mercy and walk humbly with your God." He also wished her a long, rewarding deanship. Hudnut-Beumler is the Anne Potter Wilson Professor of American Religious History.
Townes, who has been the Andrew W. Mellon Professor of African American Religion and Theology and associate dean of academic affairs at Yale Divinity School, thanked Hudnut-Beumler for all of his support through the transition. She also brought greetings to the new graduates.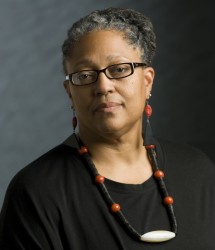 "I can think of no better place or time of the year to talk about possibilities than in a baccalaureate service," she said. "Graduates, you are setting off for the known and the unknown. Live into the possibilities before you and please do not settle for the easy way out. Take on the world and refuse to accept the way things are. Live life hard with commitment to faith, with an eye toward justice and a spirit that knows that you sometimes need to rest and leave spaces for reflection."
Townes also called on the Divinity School community to join with her to "…dare to live justice, love, passion, integrity, courage and more."
The service, which took place May 8 in Benton Chapel, included performances by the Vanderbilt Divinity School Ensemble and the Village Church Drum Ensemble.