Be authentic, Chancellor Zeppos tells Vanderbilt graduates
by
Jim Patterson
May. 10, 2013, 11:56 AM
In a world where leaders and heroes frequently disappoint and the Internet frontier is "crawling with schemers and hackers and avatars," Vanderbilt graduates should cling to their integrity and authenticity, Chancellor Nicholas S. Zeppos told the Class of 2013.
"When you face disillusionment in others or temptations in yourself to be false, I hope you will remember that when you were first welcomed to Vanderbilt, it was not because we wanted to change you into someone different from the young person you were then," Zeppos said to some 3,000 graduates and their guests in Memorial Gym.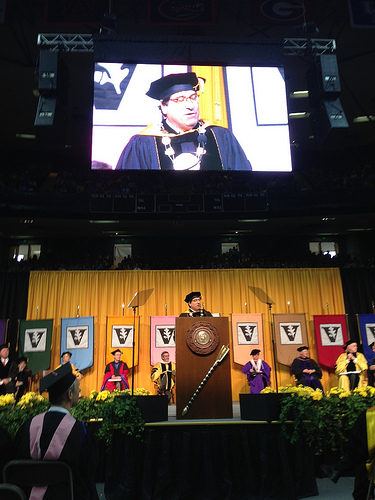 "Whatever degree of wealth, fame or prestige you find after you leave Vanderbilt, when you return, and when we hear of you, we will be looking for that same promising young person we met in American history or Renaissance literature classes, in astronomy or anatomy, at piano and voice performances, on the athletic fields and courts, via government and community service organizations, through a byline in The Hustler or a poem in the Nashville Review, and in the quiet revealing conversations in residence halls or in the residents' lounge.
"We'll be listening for that authentic voice, your one voice, the one we heard you learning to speak ever more clearly at Vanderbilt."
The Commencement ceremony capped two days of activities for graduates and their guests. Events included a speech by Pulitzer Prize-winning novelist Toni Morrison, educational seminars by faculty and separate ceremonies by each of Vanderbilt's 10 schools at which students were awarded their degrees.
The top students in each school were awarded Founder's Medals.
"Take with you our hopes for your health and happiness and our counsel that you never lose sight of where you came from, or the people, past and present, who have helped you arrive here today," Zeppos told the graduates. "Strive always to understand your best true self in the mission that you decide each day to make your own purpose."