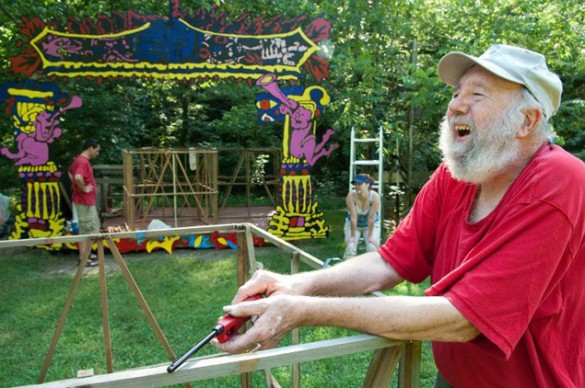 Donald H. Evans, a professor of art and art history, emeritus, at Vanderbilt University who developed a national reputation for ambitious and interdisciplinary work that often included epic-scaled events, died May 6. Evans, 74, had recently battled cancer.
He was born in Murfreesboro, Tenn., and earned his undergraduate degree from the University of Tennessee at Knoxville in 1962. Evans earned a master of fine arts from the University of North Carolina, Chapel Hill, in 1968.
Evans joined what was then called the Vanderbilt Department of Fine Arts in 1969. As director of the Vanderbilt Media Experimentation Center, he offered pioneering courses in video art, multimedia and computer graphics. Throughout the years, he played an influential role in the Nashville experimental arts community.
"[lquote]I will always think of Don as an artist whose imagination was limitless.[/lquote] His charisma, good humor and enthusiasm made him a magnet for creative individuals, many of whom worked alongside him as he orchestrated spectacular and unforgettable productions," said Mark Hosford, associate professor of art and acting department chair.
Evans' instruction in wide-ranging media earned him the reputation of an enlightened and inspiring teacher among many students. Some of his artistic events included live-action performance, spontaneous creation of two-dimensional images, sculptures, music and films. One example from 2001 was "Burning Banjos II," a public multimedia performance and installation. Joseph Whitt, the 1993 winner of the Margaret Stonewall Wooldridge Hamblet Award in Studio Art, said that Evans was the important artistic influence in his life.
"Don could get to the essence of art-making with a student faster than anyone I've ever met," said Michael Aurbach, professor of art. "Students were often frustrated by this type of personal challenge but were usually grateful by the end of the term."
Shortly before his retirement in 2002, Sarratt Gallery hosted "Don's Big Show," a retrospective exhibit that included "The 100 Bag Event." One hundred bags containing a variety of art supplies including old magazines and ceramic statues were handed out to visitors, who used their imaginations to create a mural on one of the walls.
Evans remained active in the arts community after he took emeritus status. He participated in two team-collaborative projects at Cheekwood Botanical Garden and Museum of Art in 2007 and 2008.
Seven of his films, including Data Bank and Video Dance, won awards. Evans' prolific video works include Visual Prison, Light Sensitive People, Jack's Big Adventure and Tracks Across the Yukon.
Evans is survived by his wife, Sheryl Evans, and daughter, Amy Evans.