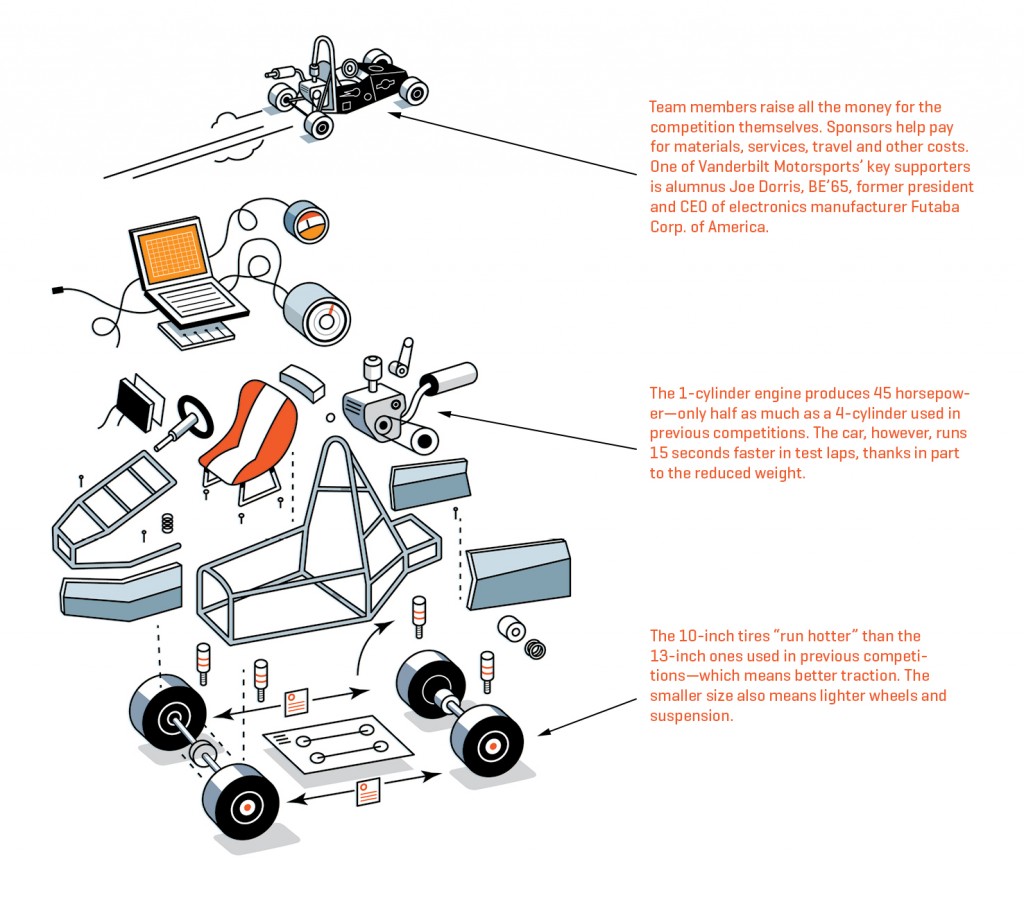 Vanderbilt Motorsports, an extracurricular team of School of Engineering undergraduates, will compete in May 2014 in the annual Formula SAE (Society of Automotive Engineers) event at Michigan International Speedway near Detroit. The event is the culmination of a yearlong process to develop a small, affordable formula car that could be marketed to amateur racers.
Teams are judged not only on the design and performance of their cars but also on the quality of their business presentations. The judging criteria are so strict that, of the 120 teams that enter each year, typically fewer than 40 cross the finish line.
"I know it sounds strange," says Phil Davis, an engineer in the School of Engineering dean's office who advises the Motorsports team, "but many teams enter just hoping to finish the competition rather than win it. We would love to win, of course, but it's really more about the learning experience."
1. Design
The car's design begins literally from the ground up."The tires—that's where you start," says team leader Eric Bramlett, a junior majoring in mechanical engineering. "You look at the tire data and figure out how they're going to perform. Then you design a suspension that can hold them, and from there you start connecting the dots."
2. Build
Team members work from their designs in CAD (computer-aided design) software to make many of the car parts themselves in the School of Engineering's machine shop. "We've always felt like you learn more when you build your own parts," Davis says. "Plus, it forces you to make the parts simple—and simple means less cost and fewer problems.
3. Test
The team fine-tunes the car's design and performance before competition by testing it on local racetracks and in empty parking lots. "We're trying to find that balance between reducing the weight as much as possible while also making sure that things don't fail," Bramlett says. "If the car could hold together just long enough to reach the finish and then fall apart, that would be ideal."
4. Compete
The competition includes "static" events, like the design review, cost report and business presentation, as well as "dynamic" ones that test the performance of the car. Of the latter, the 22-kilometer endurance test is perhaps the most demanding. "If something comes loose from vibration, you're out. If you drip oil, you're out," Davis says. "An entire year's work could come to an end because of one small mistake."
………………………………………………………………………………………………………………………………….
Bonus Content
Photos of the Vanderbilt Motorsports team and their project