[gofullscreen][featuresection]
PHOTOGRAPHY BY DANIEL DUBOIS, LAUREN HOLLAND, JOE HOWELL and JOHN RUSSELL
"Living–learning community" is a phrase bandied about Vanderbilt frequently these days, particularly since inception of the College Halls residential college system and construction of The Martha Rivers Ingram Commons in 2008. But it's hardly a new concept on campus.
In 1980, Chancellor Alexander Heard and other campus leaders championed the renovation of McTyeire Hall to become a new center to promote the use of foreign languages and awareness of other cultures. Today McTyeire International House is home to 95 undergraduate and graduate students, primarily Americans, who live, eat, play and work together under one roof—immersing themselves in international cultures and improving their fluency in French, German, Japanese, Chinese, Spanish or Russian.
Although McTyeire residents are not required to major in a language—residency is open to students of all majors and schools at Vanderbilt—admission to the program requires previous study in a language and sufficient ability to converse informally in that language. Each language group has a native-speaking coordinator who advises residents and plans language-building activities throughout the year. Students are required to speak their target languages or discuss international topics at these events.
Overseen by the associate dean of the College of Arts and Science, McTyeire International House partners closely with faculty advisers, the Office of Housing and Residential Education and Vanderbilt Dining Services.
Dinner Conversation
[/featuresection]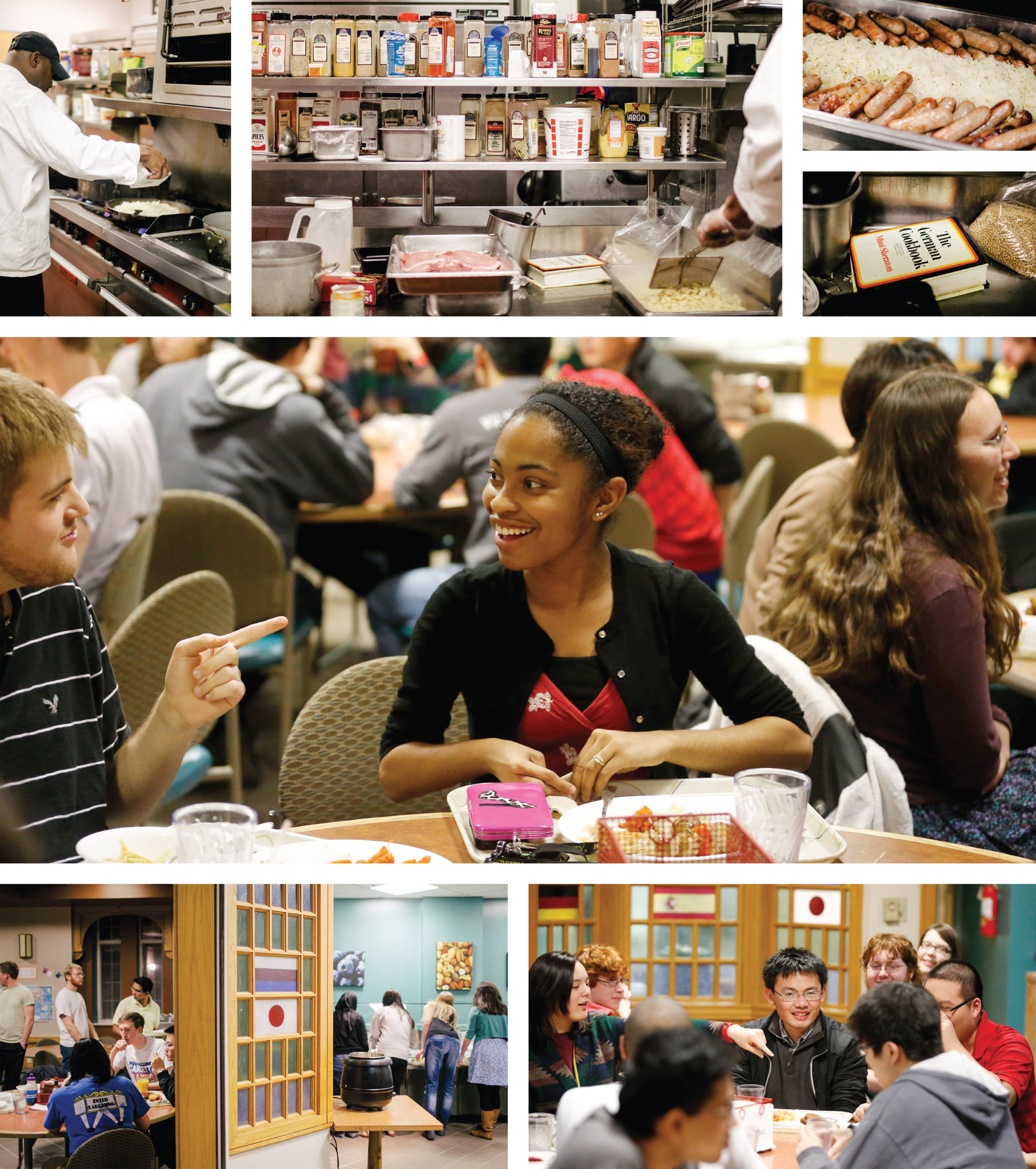 [featuresection]"THE DINNERS ARE AT THE HEART OF OUR PROGRAM," SAYS ANJA BANDAS, PROGRAM DIRECTOR FOR MCTYEIRE INTERNATIONAL HOUSE. FOUR WEEKLY DIN- NERS, AT WHICH STUDENTS MUST CONTRIBUTE TO CONVERSATION IN THEIR TARGET LANGUAGES, ARE SERVED IN MCTYEIRE'S OWN DINING ROOM, INCLUDING AN INTERNATIONALLY THEMED DINNER EACH THURSDAY. MCTYEIRE'S CHEFS SPECIALIZE IN CUISINE FROM AROUND THE WORLD.
Living the language
[/featuresection]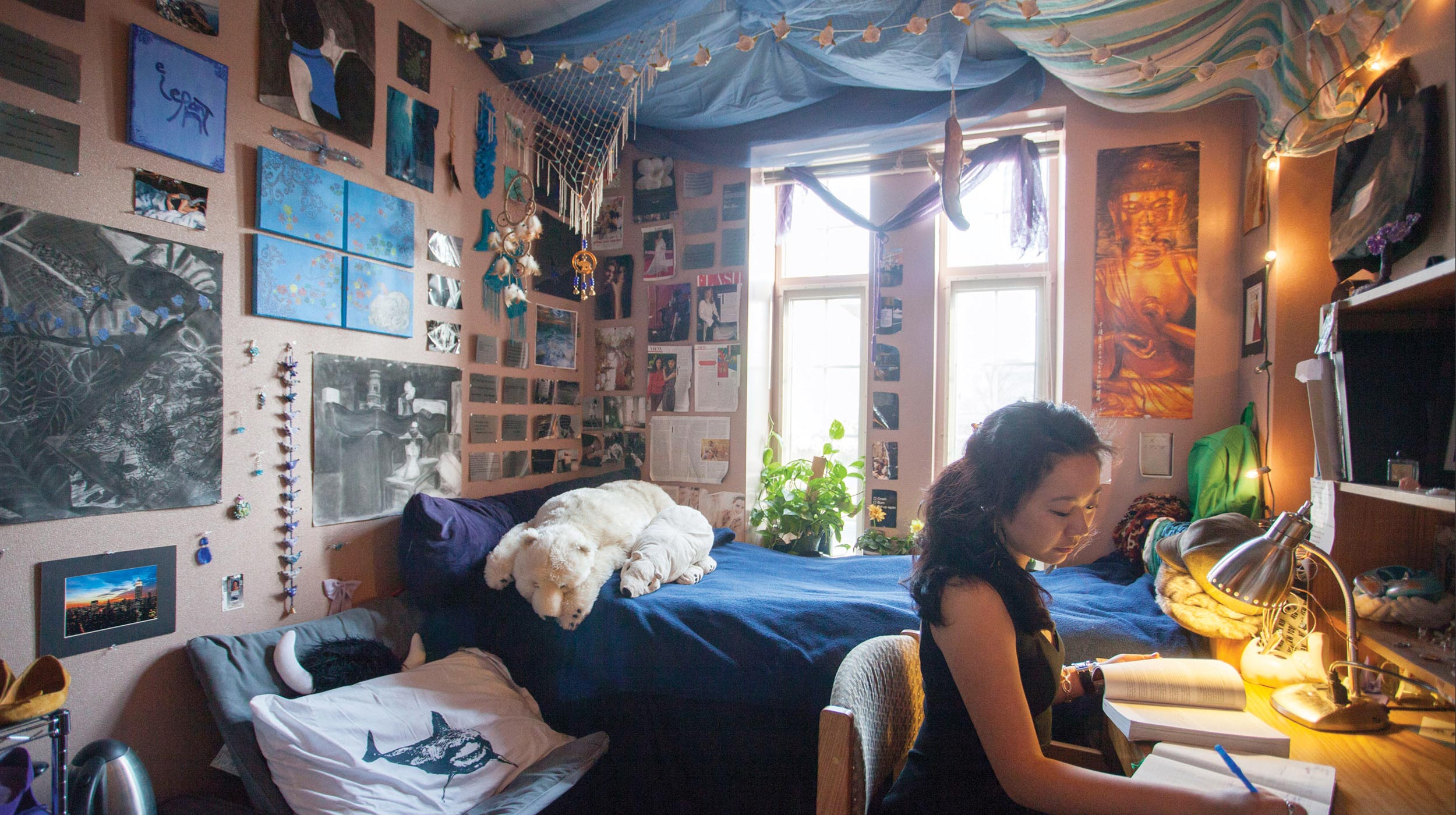 [featuresection]MCTYEIRE STUDENTS LIVE IN SINGLE ROOMS ALONG RESIDENCE-HALL CORRIDORS GROUPED BY TARGET LANGUAGE. MANY DECORATE THEIR ROOMS TO REFLECT THE CULTURES OF INTEREST TO THEM, SUCH AS THESE INHABITED BY SENIOR ECONOMICS MAJOR AND RESIDENT ADVISER ANNIE WANG, WHO IS STUDYING CHINESE, AND BEN JUVELIER, A SENIOR MAJORING IN GERMAN. ANNIE HAS JUST LANDED A GREAT JOB AND WILL SOON GO HIKING IN NEPAL.
Mixing it up
[/featuresection]
[featuresection]THE MCTYEIRE MIXER, HELD IN MARCH, IS ONE OF TWO LARGE ANNUAL EVENTS HOSTED BY MCTYEIRE WITH AN INTERNATIONAL FOCUS. ATTENDED BY FAC- ULTY MEMBERS OF THE FOREIGN LANGUAGE DEPARTMENTS, THE MIXER FEATURES A RECEPTION SERVING INTERNATIONAL FOODS AND A SHOWCASE OF SKITS AND PRESENTATIONS BY STUDENTS RELATED TO THE CULTURES OF THE LANGUAGES IN WHICH THEY ARE HONING THEIR SKILLS.
Breaks from the routine
[/featuresection]
[featuresection]WEEKLY CULTURAL "STUDY BREAKS" AT MCTYEIRE—CONDUCTED IN VARIOUS TARGET LANGUAGES—CAN FEATURE ANYTHING FROM WORD GAMES AND FOREIGN FILMS TO LECTURES AND MUSIC. PERIODIC "FIRESIDE CHATS" BRING RESIDENTS TOGETHER TO HEAR GUEST LECTURERS AND OCCASIONAL PERFORMANCES. A RECENT FIRESIDE CHAT FOCUSED ON THE HISTORY AND CULTURE OF GUATEMALA, AND ANOTHER FEATURED KEIKO NAKAJIMA, SENIOR LECTURER IN JAPA- NESE, WHO PERFORMED ON THE KOTO, A TRADITIONAL JAPANESE STRING INSTRUMENT.[/featuresection]
[featuresection]
View a photo gallery from McTyeire. 
Learn more about McTyeire International House.
[/featuresection]
[endfullscreen]