Media Inquiries
Latest Stories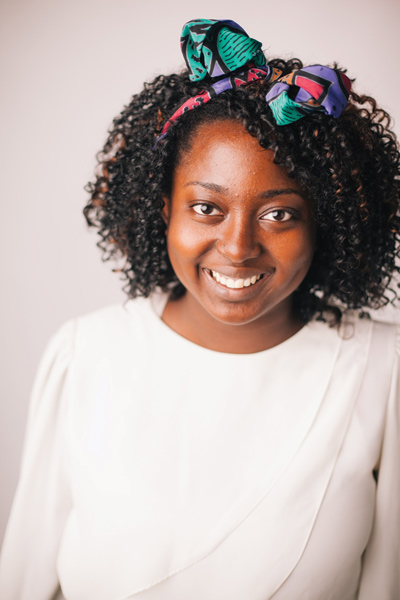 When Shewa Adelekun was 5, her family emigrated from Nigeria to New York City. Her father, a doctor in his native country, took steps to complete his medical residency in the United States. Her mother, a nurse by training, became certified in the United States and worked two jobs to help support the family. It's not hard to understand why Adelekun holds them in high esteem.
"My parents are my biggest heroes ever," she said. "Seeing their hard work has always been inspiring to me."
When Adelekun was in the fourth grade, her family settled in Gastonia, N.C., where she eventually encountered another big influence in her life: Lenora Crabtree, her high school biology teacher and a Vanderbilt alumna.
"She knew that I was interested in science, and she really encouraged me to look into Vanderbilt," Adelekun said. "She drives a gold car, uses a black-and-gold umbrella—she's a diehard Vandy fan. Seeing her passion for the school captured my interest in Vanderbilt."
Adelekun knew she wanted to follow in her parents' footsteps and pursue medicine. At Vanderbilt, the College of Arts and Science student has double-majored in neuroscience and medicine, health and society—the latter inspired by a bioethics seminar she took freshman year.
"[lquote]My MHS classes have really changed my perspective of what health is, what it means to have equitable health care, and how to achieve that for the future," she said.[/lquote] In particular, Adelekun is interested in mental health on the global scale and has assisted Associate Professor of Medicine, Health and Society Dominique Béhague with her research.
Adelekun notes that most mental health disorders, such as schizophrenia, bipolar disorder, depression and post-traumatic stress disorder, are prevalent throughout the world, including in developing countries. "But these places are less likely to have the resources or skilled professionals to treat them to the same extent as developed nations," she said. "This inequality is a human rights issue."
Adelekun is also passionate about Project: Bridges, an organization that matches Vanderbilt students with refugee families living in Nashville. She and a partner meet weekly with a family from the Congo to help them practice speaking English, navigate health care issues and generally provide a connection to their new home.
"That has been one of the most positive experiences of my time at Vanderbilt," said Adelekun, who will likely attend medical school next year. "For the future, I'm really excited about any type of impact that I can have on the provision of equitable care."