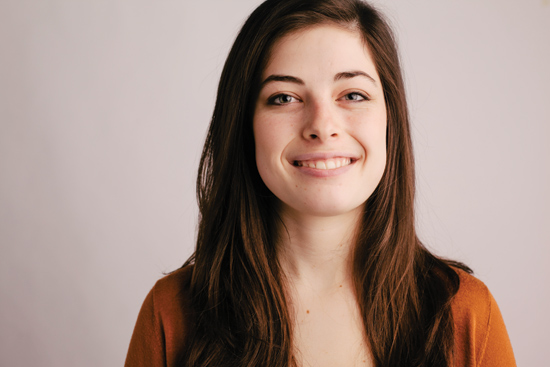 Rebecca Boelzner began playing piano at age 6 and violin at 11 before switching to the viola—a stringed instrument slightly larger than the violin with a deeper sound—as a senior in high school. Pursuing music in some way at college only seemed natural for the Richmond, Va., native.
"I wanted to attend a school with a strong music program as well as strong academics, because I didn't know what exactly I wanted my major to be," she said. Both of Boelzner's parents have undergraduate degrees in music but pursued careers in other fields while doing music on the side. She thought she might follow a similar path.
At Vanderbilt's Blair School of Music, Boelzner found small class sizes, a close-knit student body and world-class, supportive instructors, including Professor of Viola Kathryn Plummer. She briefly considered a major in psychology before switching to music full-time.
"It was the Blair community that really encouraged me to go for music," she said. "[rquote]I had always loved playing, but I didn't realize it was a world I wanted to be in until I came here.[/rquote] I realized that for the rest of my life, I want to go to work every day and play
the viola."
For Boelzner, this wasn't an easy decision. Staking one's future on a career in the arts is a daunting prospect, especially in current economic times. How to make classical music more accessible and engage a broader audience is very much on the minds of music students, Boelzner said, and a frequent topic of discussion in the classrooms and hallways at Blair.
"I don't think there's a simple answer," she said. "But I think when you cut the arts, a really important part of living goes away." Music, especially, can nourish us intellectually and emotionally like nothing else can, she said.
Boelzner believes one way to combat the graying of symphony audiences is to engage more young people in music. She volunteers at the W.O. Smith Nashville Community Music School giving lessons to students from low-income families. She considers this an investment in the future in more ways than one. "Studying music can help kids with everything from literacy to math to social skills," she said.
Boelzner's future plans include graduate school at the University of Michigan, then a job with a symphony. What did her parents think about her decision to pursue music instead of a potentially more lucrative career?
"They didn't bat an eye," she said. "As musicians themselves, they understand. They've been really supportive."