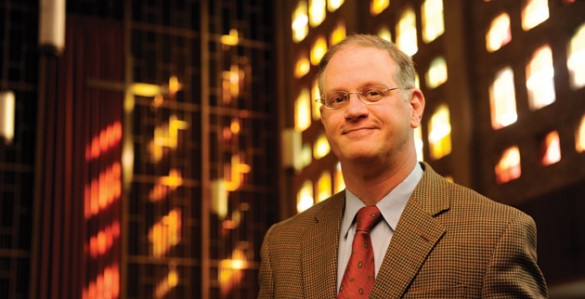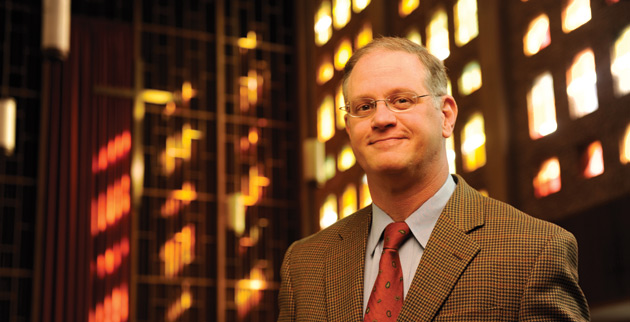 When James Hudnut-Beumler greets students walking the halls of Vanderbilt Divinity School, he sees a significantly larger, more diverse student population with much improved financial support than he did when he arrived on campus 13 years ago.
"We have done exceptionally well in terms of growing while other theological schools across the nation have had difficulty maintaining enrollments," said Hudnut-Beumler, who will step down as dean June 30. He will remain the Anne Potter Wilson Distinguished Professor of American Religious History, returning to teaching after a year's sabbatical.
Under his leadership, the number of students in the school's professional programs has doubled, while the graduate programs have become more competitive, attracting
top students. In addition, the faculty has grown by about 50 percent during Hudnut-Beumler's tenure.
James P. Byrd, associate dean for graduate education and research at the Divinity School, has worked with Hudnut-Beumler since 2000. "Jim has been a truly outstanding dean who exemplifies impeccable character," Byrd said. "He is also a leading scholar and gifted teacher, and we owe a great debt to him for his wise leadership through challenging times in theological education."
Hudnut-Beumler, an ordained Presbyterian minister, partly credits the school's nurturing environment for its impressive growth. "(This is a place) where people come from a wide variety of faith groups to meet one another and to explore together the texts and living religious traditions," he said.
"The ability of our students to cross-register with the other schools at Vanderbilt is definitely another asset in admissions. [rquote]It helps contribute to a well-rounded Vanderbilt divinity graduate going into ministry—one who is prepared to work with those who have additional concerns and interests beyond religion."[/rquote]
The outgoing dean views the creation of the Program in Theology and Practice, with strong financial support from the Lilly Endowment, as among his proudest achievements. Hudnut-Beumler fully engaged key stakeholders in developing a groundbreaking model to prepare doctoral students to teach future ministers, according to Craig Dykstra, who was the Lilly Endowment's senior vice president for religion during the program's development. "Jim's strong and steady leadership, reflected in the painstakingly thorough planning process, ensured the program has become a national model of best practices in theological education," said Dykstra, now a research professor of practical theology and senior fellow at Duke Divinity School.
One of the program's innovations is that during the doctoral students' sixth year, they teach part-time at another theological school under the guidance of strong mentors. The original $10 million grant by the Lilly Endowment was the largest ever received by Vanderbilt Divinity School, and the program has been awarded a $5 million renewal grant.
Other highlights under the dean's leadership include expanding offerings in Jewish Studies, Religion in the Arts and Contemporary Culture, and the Turner Center for Church Leadership and Congregational Development.
"Jim really loves our students," said Melissa Snarr, associate dean for academic affairs and associate professor of ethics and society. "He enjoys the classroom tremendously and is keenly interested in expanding our programmatic training and support for students as they inhabit numerous, creative understandings of ministry. He is not afraid of the changes in theological education but sees great hope for what's possible. His optimism is grounded in his deep admiration for our students."
Returning to full-time faculty status will allow Hudnut-Beumler to focus more on research, including a book under contract called Southern Harmonies. It looks at contemporary Christianity in the American South. "There are books on religion in the old South, during the Civil War and continuing through the civil rights era. However, you can't find a book that explains how Christianity works in the era of Mike Huckabee, Hurricane Katrina and the religion of our military troops, who remain disproportionately from the South," he said.
While dean, he wrote In Pursuit of the Almighty's Dollar: A History of Money and American Protestantism and co-authored The History of the Riverside Church in the City of New York.
Hudnut-Beumler is delighted that Emilie M. Townes, the Andrew W. Mellon Professor of African American Religion and Theology at Yale Divinity School, will succeed him as dean this summer. "I have known Emilie for more than a decade and have huge respect for her as a distinguished scholar, teacher and administrator," he said. "I wish her well and can't wait to see what she—with her imagination and our excellent faculty and staff—pursue next."
Over the past 13 years Hudnut-Beumler and his wife, the Rev. Heidi Hudnut-Beumler, have enjoyed raising their two children in Nashville. "My son is going off to college, my daughter is going off to medical school and I'm going off on sabbatical with Heidi, so we're all looking forward to new chapters," he said, noting that Music City will still be home. "You can't write a book on Christianity in the American South and not be on the buckle of the Bible Belt, can you?"
To learn more: divinity.vanderbilt.edu