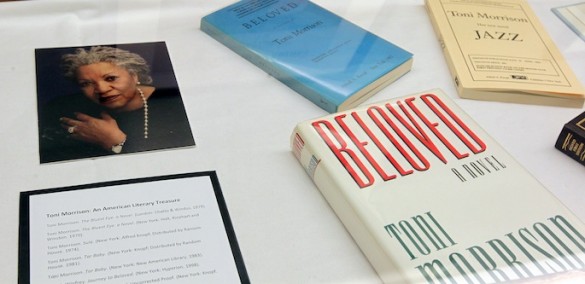 An exhibition drawn from more than 50 volumes in Vanderbilt University Special Collections that are by or about 2013 Senior Day speaker Toni Morrison are on display in the Central Library.
"Toni Morrison: An American Literary Treasure," which includes first editions, uncorrected proofs and other unique and rare materials, is housed in two cases on the library's fourth floor and one on the sixth floor. The exhibition is free and open to the public.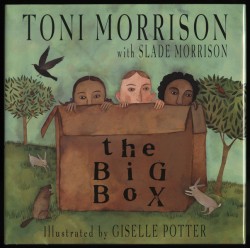 Juanita Murray, director of Special Collections and University Archives, is pleased that visitors to the library during Commencement week can see the beautiful books. "Toni Morison's career has blazed trails for a future generation of fiction writers," Murray said. "Her novels get to the heart of the human condition by relating the complexity of families."
One case on the fourth floor has samples of Morrison's fiction, such as The Bluest Eye: a Novel, Tar Baby, Jazz and Song of Solomon. There's also Journey to Beloved, a book by Oprah Winfrey about the 1998 film in which she co-starred with Danny Glover. The film is based on Morrison's 1987 book of the same name.
In the second case are colorful children's books that Morrison co-authored with her son, Slade Morrison. These include some of their Who's Got Game series and The Book of Mean People. Some of Morrison's insightful quotes on her writings are interspaced among the books.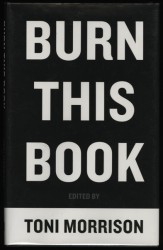 Morrison's nonfiction works, viewable on the sixth floor, include Burn This Book: PEN Writers Speak Out on the Power of the Word and a book containing her acceptance speech when she was awarded the 1993 Nobel Prize for Literature. There's also a quote from a 1981 interview with The New Republic in which she said, "My challenge to the young people is to pick up where this generation has left off to create a world where every man, woman and child is not limited, except by their own capabilities."
The three cases for the Morrison exhibition, which was curated by Kathy Smith, associate university archivist, are original to the recently renovated library, constructed in 1941.
For those who cannot go to the library or just want to learn more about Morrison's works, please visit this corresponding website. Visitors to the Central Library should check its website for hours of operation. For more information on the Morrison exhibition, email Celia Walker.